Newest Issue of Grooby Girls Magazine Now Available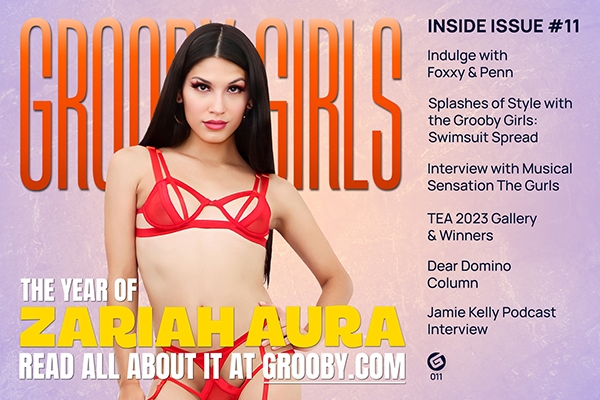 LOS ANGELES, CA – Grooby brand ambassador Zariah Aura graces the new cover of 'Grooby Girls' Magazine, now available digitally at Grooby.com.  
"We took a brief hiatus and have returned with a mega issue with a fantastic interview with Zariah," says Grooby's Creative and Editorial Director, Kristel Penn. "This magazine is both for our Grooby Girls and their biggest fans. A little something for everyone." 
Issue #011 of the free digital publication includes a spread with award-winning performer Zariah Aura, an interview with musical sensation The Gurls, TEA 2023 gallery and winners spread, Dear Domino advice column, chatting with Jamie Kelly from the Approximate Podcast, 'Indulge with Foxxy and Penn' co-host the legendary Foxxy, the Grooby Girls swimsuit spread, and an exclusive interview with Dariusz from LoyalFans. 
Read Issue #011 at the Grooby.com here: https://www.grooby.com/2023/09/grooby-girls-magazine-issue-011/
Those interested in contributing to a future issue of Grooby Girls Magazine can reach out to Kristel Penn at kristel@grooby.com. 
ABOUT GROOBY
Founded in 1996, Grooby stands as the premier producer of trans erotica, shaping the adult entertainment landscape through its commitment to diversity, authenticity, and excellence. 
With a portfolio of membership sites, an annual showcase in the Transgender Erotica Awards (TEAs), and a dedication to innovation, Grooby continues to lead and inspire. Discover more at Grooby.com and stay updated on Twitter at @Groobydotcom.
Keywords: Grooby, Grooby Girls, Grooby Girls Magazine, Trans Porn, Transgender, Zariah Aura, Jamie Kelly, Domino Presley, The Gurls, TEA 2023, Swimsuit spread, LoyalFans, Foxxy, Kristel Penn, Indulge with Foxxy and Penn
Share This