Amateur Productions Joins AltErotic Creative Team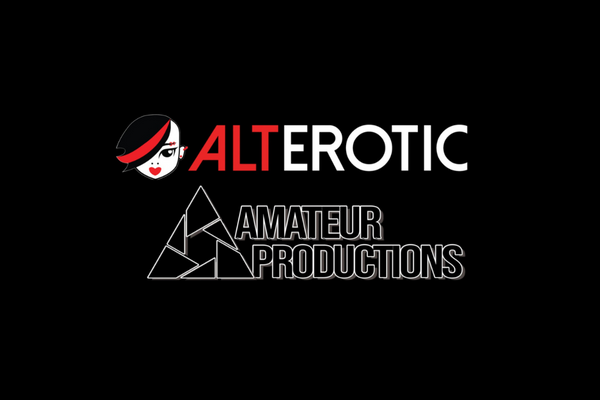 LAS VEGAS – On August 17th, AltErotic announced that Amateur Productions by Sarina Havok & Robin Coffins will be joining the AltErotic Creative Team. They are currently working on their first production together titled "Neon Vampire". Starring: Robin Coffins as The Neon Vampire, Darcy Diamond as The Vampire Queen, Sarina Havok as The Beloved Vampire and Autumn Rain, Livi Doll & Nyxi Leon as The VampBites.
From the minds of Sarina Havok and Robin Coffins and the talent of Ivan from AltErotic comes this fall's show stopping theatrical release! Neon Vampire will simultaneously be the first ever Trans related content to be released for AltErotic!
Amateur Productions and AltErotic are currently in production with the trilogy now and it promises to blow away their audiences! From the storyline to the shots, the lighting, the sets AND the wardrobe this scene will definitely be raising the bar!
"It is so surreal having our ideas captured so beautifully on camera! Working with 2x Hall of Famer Ivan from AltErotic has been an honour and I truly look forward to making so much more creative collaborations together!"
Robin Coffins of Amateur Productions says.
"We all really pulled it out of the bag on this one! Robin, Ivan, Darcy Diamond, Wendy Doyle of Gypse Couture and I are definitely a Dream Team! This trilogy will be like nothing else out there!" Amateur Productions' Sarina Havok Replies.
"I am so excited to work with these two talented women. The amount of work and research they put into their productions is first class. They should be changing their company name to Extremely Professional Productions. This vampire series has my lighting bug buzzing with excitement!"
Comments Ivan of AltErotic
Darcy Diamond describes the project as:
"Unveiling the mesmerizing darkness of our 3?scene Trilogy, Neon Vampire, a stunning collaboration between Amateur Productions and AltErotic's creative prowess. Picture Xena, warrior princess, entwined with the allure of the queen of the damned, as I embrace the role of the queen vampire. With the visionary Robin Coffins and the enigmatic Sarina Havok, this movie emerges as an electrifying testament to our creative synergy—a symphony of shadows and desires that will leave you breathless."
The Neon Vampire will feature 3 scenes with increasing intensity, the first scene setting the stage for the movies with Darcy Diamond and Robin Coffins in a passionate, steamy lesbian sex scene The second will feature a Transgirl on 2 Girl sex scene and the third, final scene culminating in a 4 Transgirls & 2 CisGirls Transformation Orgy! With all three scenes you will definitely be able to tell the attention to detail this group has and the perfect synergy throughout the team!
To support the team and Neon Vampire, subscribe now to SarinaAndRobin.com & AltErotic.com and to be the first to see this incredible production when it comes out!
Follow @AMTRProductions & @AltErotic for more details!
https://SarinaAndRobin.com & https://AltErotic.com
Share This