Kristel presents 'Finding a SWer-Affirming Therapist 101' at XBIZ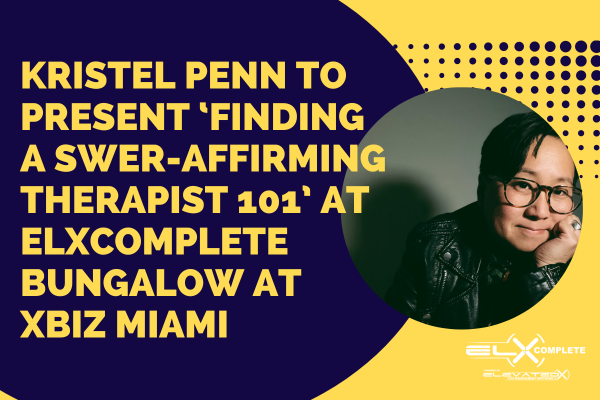 MIAMI, FL – Therapist (Associate Marriage and Family Therapist) and Grooby's Creative & Director Kristel Penn will be presenting their 'Finding a SWer-Affirming Therapist 101' workshop next Tuesday at the ELXComplete Bungalow at the upcoming XBIZ Miami Conference.
"As one of the seven largest brands at the show with private indoor bungalow suite spaces, when asked if we'd be open to hosting an event, we wanted to open up our space to an educator who's aligned with the values and the culture of our company," explained Elevated X owner, AJ Hall. "We're excited to present Grooby's, Kristel Penn, who aside from bringing her expertise as a professional therapist and creative director, exudes warmth and acceptance with a dash of humor that's very refreshing. We hope that those in need will join us in the ELXComplete bungalow on Tuesday at 6pm for this special workshop."
"Thank you so much to AJ from ElevatedX for this opportunity," said Kristel Penn. "I've been presenting this workshop in different iterations for the last four years and I'm excited to bring it to XBIZ's Miami show. Mental health is an important issue within the adult community and I want to use my knowledge to empower others in their mental health and wellness journeys. So bring your questions – this is a great opportunity to ask a therapist general questions about therapy itself and navigating a complicated healthcare system."
Penn will be presenting 'Finding a SWer-Affirming Therapist 101' on May 16 from 6-6:50pm at the ELXComplete bungalow. The 1-hour workshop covers topics related to client rights, exploring therapeutic modalities suited for SWers, and navigating the process of finding a SWer-affirming and competent therapist. Register for the conference at XBIZMiami.com.
Elevated X is the adult industry's largest provider of website management services and is responsible for powering the biggest brands and top performers since 2006. Introduced in 2018, the company's incubation and investment division, ELXComplete offers all-inclusive website services to independent performers and creators with no startup cost or fees. To learn more, visit http://elxcomplete.com. Follow the company on Twitter @elevatedx for product-related news and feature updates.
Share This