Grooby's 'Black-TGirls: 2022 Model of the Month' Now Available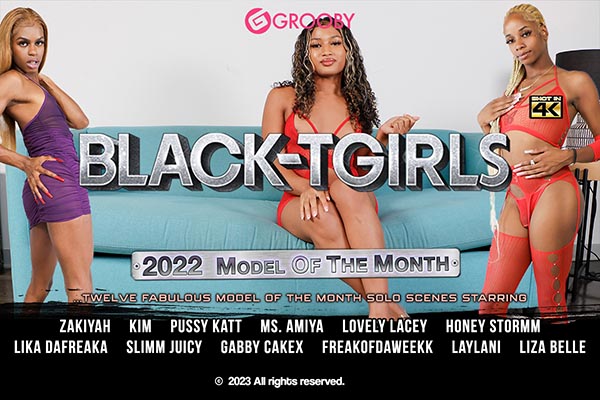 LOS ANGELES, CA – Grooby is proud to announce its latest title, Black-TGirls: 2022 Model of the Month. The title is now available for download and streaming at GroobyDVD.com. 
"We've got an incredible lineup of new trans superstars for 2022," said Grooby CEO, Steven Grooby. "This is the crème de la crème of Black-TGirls.com performers from all over the United States. Fans will love this collection of our hottest scenes in the past year."
'Black-TGirls: 2022 Model of the Month' features scenes from Zakiyah, Kim, Pussy Katt, Ms. Amiya, Lovely Lacey, Honey Stormm, Lika DaFreaka, Slimm Juicy, Gabby Cakex, FreakofdaweekK, Laylani, and Liza Belle. Purchase your copy today at GroobyDVD.com.
ABOUT GROOBY
Founded in 1996, Grooby is the leading producer of trans erotica. In addition to operating over 30 membership sites, the company produces nearly 50 DVDs a year and hosts the annual TEAs (Transgender Erotica Awards) in Hollywood, CA. More information about the event can be found at theTEAShow.com. Information about the company can be found at Grooby.com or on Twitter at @Groobydotcom.
Share This