Grooby's Last Ever Physical DVD Release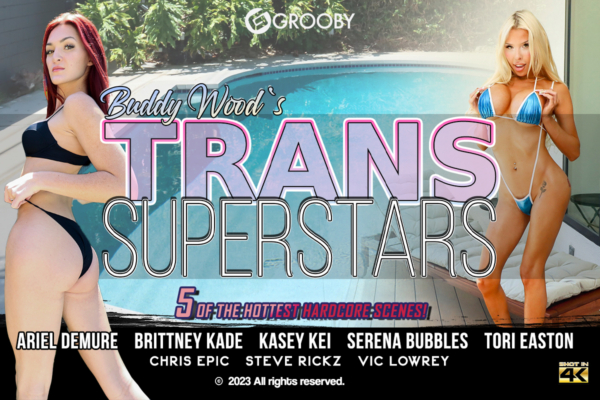 LOS ANGELES, CA – Grooby is proud to announce the release of its newest title, Buddy Wood's Trans Superstars, its last physical DVD release from the trans erotica powerhouse.
"This is a must-have DVD featuring some of the top-notch performers from the past year in five super hot and super fun scenes where the best of the best are at their best having fun and getting nasty," said director Buddy Wood. "Grab a banana daiquiri, kick back by the pool…and enjoy!"
Grooby will continue to produce titles digitally and will sell a small inventory of its past physical DVDs for a limited time at GroobyStore.com.
"Special thanks to Jerry and Exquisite for taking care of us throughout the years," said Grooby CEO Steven Grooby. "Buddy is one of our best producers and it only makes sense to have his 'Trans Superstars' title as our last physical DVD release. It's definitely a collector's item and one every true trans porn connoisseur should own."
Buddy Wood's Trans Superstars features some of the biggest names in the transgender adult entertainment industry in five hot-and-heavy hardcore scenes. Directed by award-winning filmmaker Buddy Wood, this film showcases the talent and beauty of Ariel Demure, Brittney Kade, Kasey Kei, Serena Bubbles, and Tori Easton, with Chris Epic, Steve Rickz, and Vic Lowrey. It can be purchased directly at GroobyStore.com and other select retailers.
ABOUT GROOBY
Founded in 1996, Grooby is the leading producer of trans erotica. In addition to operating over 30 membership sites, the company produces nearly 50 DVDs a year and hosts the annual TEAs (Transgender Erotica Awards) in Hollywood, CA. More information about the event can be found at theTEAShow.com. Information about the company can be found at Grooby.com or on Twitter at @Groobydotcom.
Share This