'GroobyGirls: 2022 Model of the Month' Hits Digital Shelves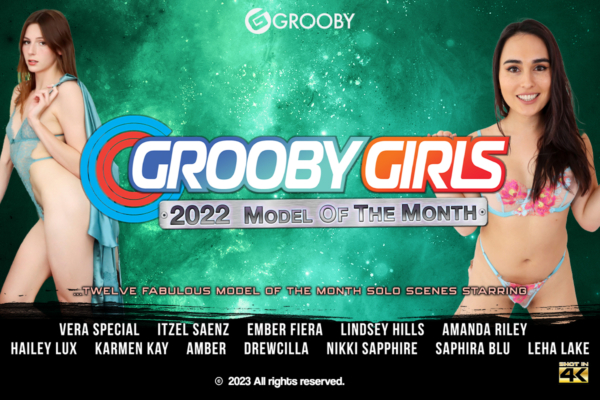 LOS ANGELES, CA – Grooby released its newest title, GroobyGirls: 2022 Model of the Month. It's now available for purchase at GroobyDVD.com for streaming or download.
"Only the best of the best are selected to be the Model of the Month GroobyGirls.com," explained Grooby CEO Steven Grooby. "We pick whom we think are the most unique, dynamic, and exciting new girls to be our monthly stars and we've collected them all here in a very special, limited release. 2022 was a stellar year for trans content and we're here to highlight some of our brightest stars this past year."
'GroobyGirls: 2022 Model of the Month' features sizzling solo scenes with Vera Special, Itzel Saenz, Ember Fiera, Lindsey Hills, Amanda Riley, Hailey Lux, Karmen Kay, Amber, Drewcilla, Nikki Sapphire, Saphira Blu, and Leha Lake. Purchase it directly from Grooby at GroobyDVD.com.
ABOUT GROOBY
Founded in 1996, Grooby is the leading producer of trans erotica. In addition to operating over 30 membership sites, the company produces nearly 50 DVDs a year and hosts the annual TEAs (Transgender Erotica Awards) in Hollywood, CA. More information about the event can be found at theTEAShow.com. Information about the company can be found at Grooby.com or on Twitter at @Groobydotcom.
Share This