Valentine's with Kasey Kei on GroobyVR.com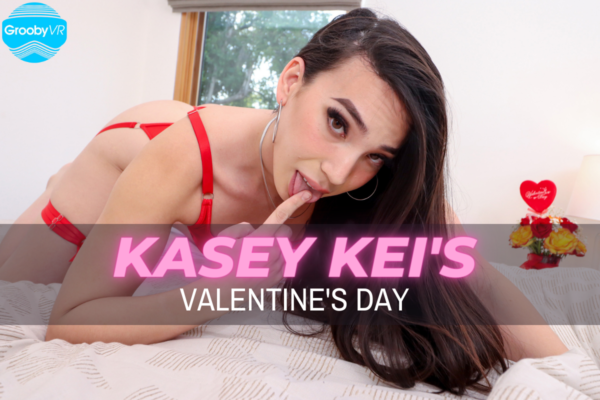 LOS ANGELES, CA – Hearts are aflutter in GroobyVR.com's latest exclusive scene, Kasey Kei's Valentine's Day.
"We're all big fans of Kasey here at Grooby HQ," said Grooby's Marketing & Talent Director Mike Francis. "Not only is she a great girl who is super easy to work with, but she is also a top model who never fails to bring her A-Game to her work, and this VR Valentine's Special is no exception."
"Kasey Kei's Valentine's Day" is Kei's fourth GroobyVR.com exclusive scene and was shot by award-winning director, Buddy Wood. The 22-minute POV romp features Floridian hottie Kasey Kei opening her front door to a bouquet of flowers, before leading her man into the bedroom for some sexy fun.
"We've been really excited for this scene to drop," added Francis. "It's just one of those white-hot performances from start to finish, packed with raw passion and chemistry, and we're confident it's going to create quite the stir with our members this Valentine's Day."
'Kasey Kei's Valentines Day' is available now on GroobyVR for those with a VR setup, or TransexPOV for those without.
ABOUT GROOBY
Founded in 1996, Grooby is the leading producer of trans erotica. In addition to operating over 30 membership sites, the company produces nearly 50 DVDs a year and hosts the annual TEAs (Transgender Erotica Awards) in Hollywood, CA. More information about the event can be found at theTEAShow.com. Information about the company can be found at Grooby.com or on Twitter at @Groobydotcom.
Share This