Grooby's 'TGirls Porn Volume 29' Hit Shelves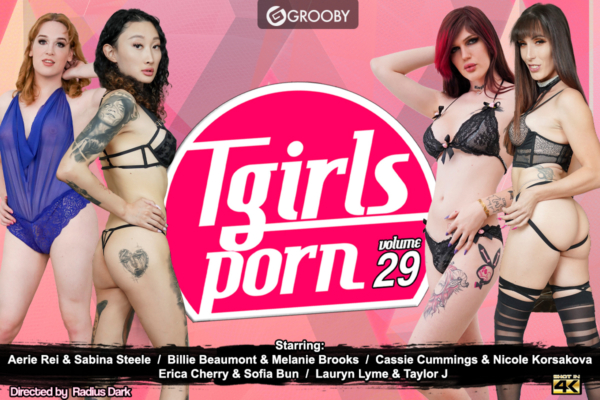 LOS ANGELES, CA – Grooby released the latest installment of its hit sapphic series, TGirls Porn Volume 29. It can be purchased at GroobyStore.com or digitally at GroobyDVD.com.
"Another five fantastic scenes of our trans lesbians," said a representative from Grooby. "These are girls, who love girls who love girls and these ten stunning tgirls cannot wait to get their hands on each other. Deep gazes into each other's eyes, long kisses, stroking and feeling each other's bodies, as their cocks stiffen and their assholes years to be penetrated. These girls know exactly how to play with each other, bringing sexual tension and electricity, which you can feel in these authentic scenes of real trans sex, as they bring each other to climax."
TGirls Porn Volume 29 stars Aerie Rei, Sabina Steele, Billie Beaumont, Melanie Brooks, Cassie Cummings, Nicole Korsakova, Erica Cherry, Sofia Bun, Lauryn Lyme, and Taylor J, in five electrifying hardcore scenes. Purchase your copy at GroobyDVD.com.
ABOUT GROOBY
Founded in 1996, Grooby is the leading producer of trans erotica. In addition to operating over 30 membership sites, the company produces nearly 50 DVDs a year and hosts the annual TEAs (Transgender Erotica Awards) in Hollywood, CA. More information about the event can be found at theTEAShow.com. Information about the company can be found at Grooby.com or on Twitter at @Groobydotcom.
Share This