Grooby Releases Holiday 'Cumshots Trans Xmas #5' Release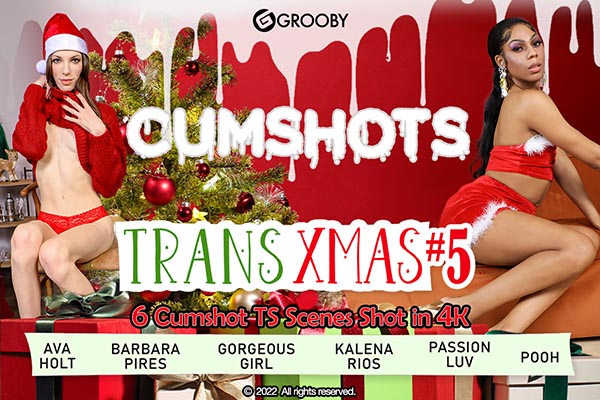 LOS ANGELES, CA – Stockings will be stuffed this week with the release of Grooby's latest DVD, Cumshots Trans Xmas #5.
"This is now the fifth installment of our holiday series," said a representative from Grooby. "We've cherry-picked some of our favorite holiday shoots this season with the hopes that this title will be your new favorite holiday indulgence."
Cumshots Trans Xmas #5 stars Ava Holt, Barbara Pires, Gorgeous Girl, Kalena Rios, Passion Luv, and Pooh in six sizzling solo scenes from all over the world. The title is available for purchase at GroobyStore.com or streaming at GroobyDVD.com.
ABOUT GROOBY
Founded in 1996, Grooby is the leading producer of trans erotica. In addition to operating over 30 membership sites, the company produces nearly 50 DVDs a year and hosts the annual TEAs (Transgender Erotica Awards) in Hollywood, CA. More information about the event can be found at theTEAShow.com. Information about the company can be found at Grooby.com or on Twitter at @Groobydotcom.
Share This