Trans Day of Remembrance
I'm going to be upfront and say that I hate writing this post every year. As someone who has worked in trans community for over 13 years in multiple capacities, today weighs really heavy on my heart. But today, I grieve. Today I hold space for my trans community who are also in mourning. Today I hold their anger and their hurt on top of my own because that is my responsibility and my privilege as a cis (albeit queer person of color) working in this industry.
For those unfamiliar with the history of TDoR, it was created back in 1999 by trans advocate Gwendolyn Ann Smith as a vigil to honor the memory of Rita Hester, a trans woman who was killed in 1998. The event is usually held now at the end of Trans Awareness Week, which highlights topics that directly impact the community. Since its inception back in the late 90s, vigils are now hosted annually around the world. The format varies a bit, but an important part of the event includes the reading of names of those trans individuals who lost their lives due to anti-trans violence in the past year. The list grows longer each year and as community members, we should be using every ounce of our privilege to protect trans people (whether from personal discrimination or wider systemic discrimination).
The number of trans and gender diverse individuals who have died by violence and suicide has grown exponentially since the year before. To learn more about the 390 trans and gender diverse individuals who died due to anti-trans hate and violence, please visit this link. As a content note, I want to be mindful of trigger warnings mentioning violence and suicide.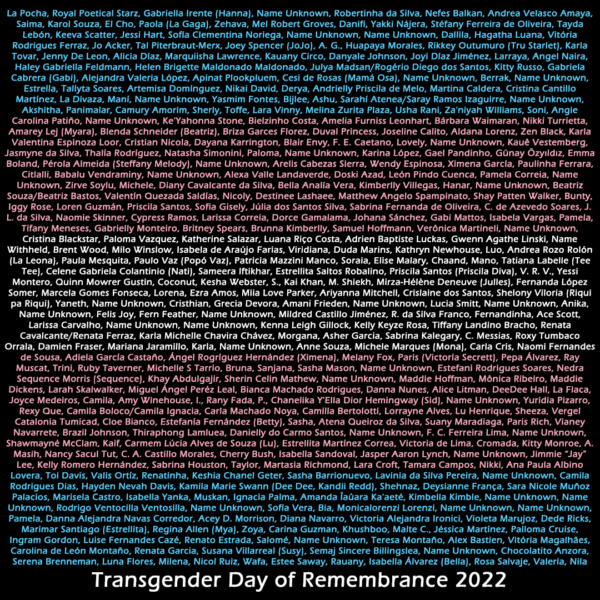 The above graphic (created by my friends at Modern Path, which is a queer, trans owned and operated therapy practice in Georgia) represents the names of the 390 trans and gender diverse individuals who have died in the past year due to violence and/or suicide. This number represents a significant jump from previous years and past data shows that it increases every year.
We have to do better. Cis allies, we have to advocate louder and we have to do so all year. Today our trans community is in mourning, but it is our time to fight on. It is our time to use our power and privilege to give a safe space to rest and thrive.
Share This