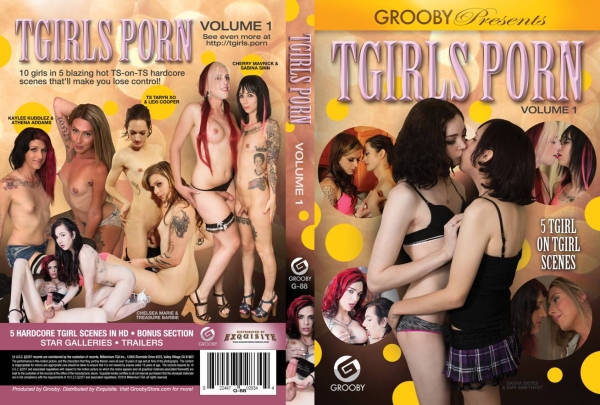 Burbank, CA – Grooby and Exquisite announced the release of their newest DVD, TGirls Porn: Volume 1. The title boasts an all superstar trans girl cast: Chelsea Marie, Sasha Skyes, Cherry Mavrick, Athena Addams, Treasure Barbie, Emy Amethyst, TS Taryn XO, Kaylee Kuddlez, Lexi Cooper, and Sabina Sinn.
"This scene was my favorite because it never felt like work," said 2016 TEA Stroker of the Year winner Sasha Skyes. "All of the affection was so real and it translated well on camera, I also took anal virginity in my scene so it was extra special."
2016 TEA Miss Unique winner Chelsea Marie added, "It was a lovely beach day with Treasure Barbie. After we got to really know each other and had some fun 'girl time.'"
According to CEO Steven Grooby, "10 girls in 5 blazing hot TS-on-TS hardcore scenes that'll surely make consumers of this release lose all control!"
"TGirls Porn: Volume 1 is the inaugural title in Grooby's new series featuring hardcore scenes exclusively with trans girls. 'All TGirls Volume 1' was our best selling title of 2014 and continues to be one of our best re-order titles. No doubt based on that previous titles success, our Distributors knew 'TGirls Porn: Volume 1' is destined to become another boner-fide winner! The numbers out the door already reflect this title will be at the top or very near the top of all upcoming 'Specialty" best seller charts." added Exquisite-Grooby sales manager David Peskin.
TGirls Porn: Volume 1 is the inaugural title in Grooby's new series and features five hardcore scenes exclusively with trans girls. It can be purchased at Grooby-Store.com.
For DVD, VOD, Licensing and Broadcast sales/inquiries (Domestic and Foreign), contact DaveP@expxxx.com or (866) 629-4271 ext. 113. All other inquiries can be directed to kristel@grooby.com.
About Grooby
Founded in 1996, Grooby is currently based in Los Angeles and is the leading producer of transgender erotica. Operating over 30 membership websites, the company has numerous popular DVD lines and operates the GroobyNetwork.com, which gives models an unique opportunity to own and manage their own solo site. They are also the host of the annual Transgender Erotica Awards. For more information, visit Grooby.com.
About Exquisite
David Peskin took over as the National Sales Manager at Exquisite in September and worked previously with Grooby during his time at Third World Media. He is currently responsible for all sales exclusively distributed by Exquisite, which include Rodney Moore, DD Busty, Mancini Productions, MeanBitch Productions, and X-Rated Films to name a few. Also under the Exquisite Multimedia umbrella are Juicy Distributors, Exile Distribution, and Elegant Angel. Visit their website at EXPxxx.com.