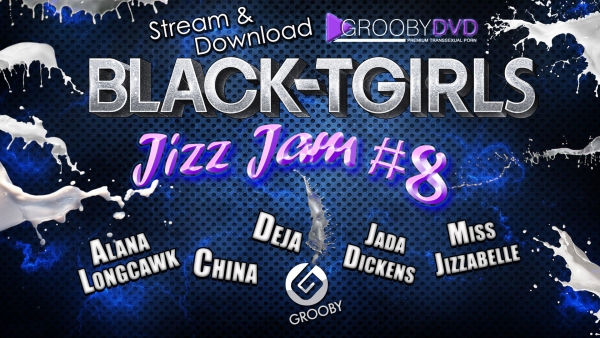 Los Angeles, CA – Grooby, the leader in trans erotica, announced their latest DVD, Black-TGirls Jizz Jam #8, is now available for purchase at GroobyDVD.com.
"Our latest installment of this series is perhaps our best yet," said Steven Grooby. "Our performer cast include some of our most popular performers from Black-TGirls.com and Kilakali did a fantastic job with these scenes."
Directed by Kilakali, Black-TGirls Jizz Jam #8 stars Alana Longcawk, Miss Jizzabelle, China, Jada Dickens, and Deja. It is available for streaming and download at Grooby's new site, GroobyDVD.com.
Press inquiries can be directed to kristel@grooby.com.
ABOUT GROOBY
Founded in 1996, Grooby is the leading producer of trans erotica. In addition to operating over 30 membership sites, the company produces nearly 50 DVDs a year and hosts the annual TEAs (Transgender Erotica Awards) held in Hollywood, CA.
In 2017, the company took over the editorial content for Transformation, the world's most popular transgender lifestyle magazine. For more information, visit Grooby.com.