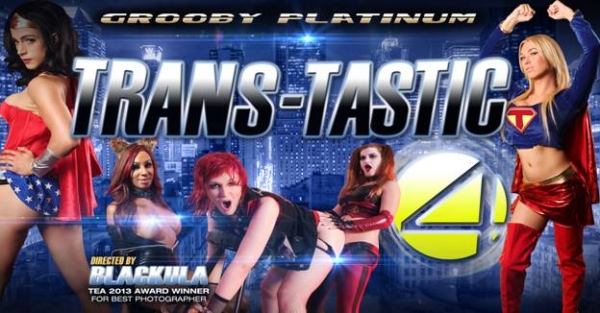 Los Angeles, CA – Grooby and Exquisite proudly announced the first ever TS superhero title, Trans-tastic Four. The DVD will be released through Grooby's Platinum line and will be available for purchase on August 8, 2016.
"When we came up with the idea, we realized no one in our genre had touched the cosplay market yet," said director Blackula. "When the girls realized this, they really gave it their all. This was such a fun shoot – everyone got really into character."
Trans-tastic Four is directed by TEA winner Blackula and stars Aubrey Kate, Honey Foxxx, Rebeka Refuse, Tiffany Starr, Nina Lawless, Mistress Cybill Troy and Mistress Elena DeLuca in four epic superhero and villain themed hardcore scenes. The battle of good versus evil never looked so sexy. Pre-order your copy at the GroobyStore.com.
"I love working with Blackula!" added star Aubrey Kate. "He always has so many awesome creative and unique ideas for me to work with. He lets me collaborate a little and let's me explore my talents, whether it's my flexibility or crazy positions I can get into and makes me look incredible. He is such a great person all around and he always make me smile, feel beautiful, and it's great to see the final results from all the hard work we put into it."
"Trans-Tastic Four was supposed to ship this week. Based on the pre-books from consumers, some of our key distributors and online retailers placed some pretty large orders. We had to order more pieces and push the title back one week to ensure delivery for everyone. Blackula did a phenomenal job as always, the entire cast gave outstanding performances and hats off to the production – editing crew for the awesome Hollywood style special effects.  These beauties possess incredible powers that can only be described as…..Trans-Tastic." said sales manager David Peskin.
For DVD, VOD, Licensing and Broadcast sales/inquiries (Domestic and Foreign), contact David Peskin at DaveP@expxxx.com or (866) 629-4271 ext. 113. All other inquiries can be directed to kristel@grooby.com.