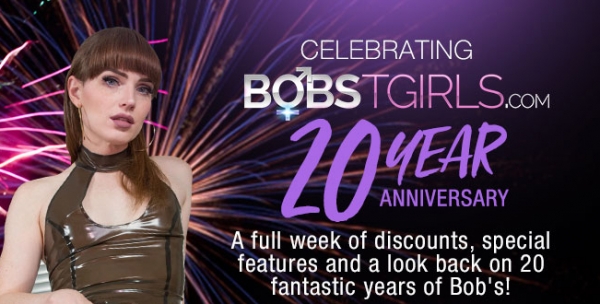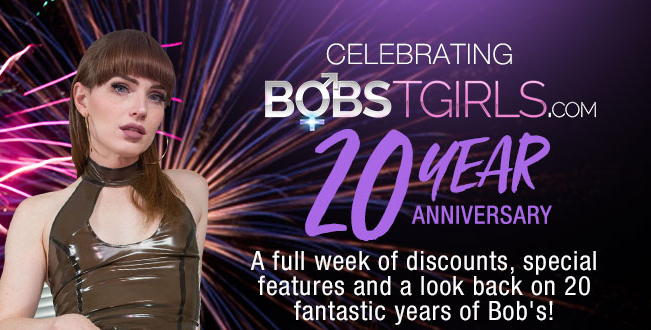 LOS ANGELES, CA – Legendary trans website, Bob's TGirls.com, celebrated its milestone 20th anniversary this month. The site was created by TEA Lifetime Achievement Award winner, Bob Maverick, and has been nominated for numerous awards throughout its lifetime.

"When I first started shooting in 1998, I was just doing it for fun and a little extra cash," said site owner, Bob Maverick. "I had no idea it would turn into Bob's Tgirls. Then, I really had no idea that I would be doing Bob's Tgirls for 20 years. It still seems crazy – even to me. But here we are."

BobsTGirls.com has been showcasing the hottest trans talent since 1999. The site is one of the longest-running and popular TS sites to date, featuring over 700 models and over 1,000 videos shot by Maverick himself.

"It's been great fun," Maverick explained. "Of course, I've been fortunate to find so many great models and fortunate to have the support of my membership. I hope my supporters will allow me to do this for years to come. Thank you all!"

BobsTGirls.com features a generous offering of newcomers and the industry's most known TS performers each week, including big names like Natalie Mars, Khloe Hart, Aspen Brooks, Chanel Couture, Foxxy, Natassia Dreams, and many more.

ABOUT GROOBY
Founded in 1996, Grooby is the leading producer of trans erotica. In addition to operating over 30 membership sites, the company produces nearly 50 DVDs a year and hosts the annual TEAs (Transgender Erotica Awards) held in Hollywood, CA. More information about the three-day event can be found at theTEAShow.com.In 2017, the company took over the editorial content for Transformation, the world's most popular transgender lifestyle magazine. For more information, visit Grooby.com or follow them on Twitter at @GroobyDotcom.