Here at Grooby Productions, we're always looking for good companies, products, or websites to share with our members. I'd never put our company name on anything I didn't think was worth it, which is why we only promote a few other companies.
For live video chat, I believe that Imlive is by far the best system (and they give away plenty of free content, which is one
of our company philosophies). The awesome, Fleshlight is something that I've tried and it was great … so, if you're in need of something to give you a great orgasm, this is it!
If you absolutely must try sites outside Grooby, our links page in the members sections of the site give you links to only sites that I think are worth joining. We do, of course, run our own DVD
marketplace that is the only all-shemale DVD direct sales company, http://www.shemale-video-direct.com and our prices and our excellent customer service are what people keep coming back for.
We've recently just started working with another company, which truly excels in its field. When we started the http://www.transexdomination.com website, we were in need of fetish items, dildos, butt plugs, latex clothes (gloves, stockings, corsets), ballgags, whips, paddles and all the
paraphernalia that goes along with a fetish site. We bought it all from one company, a company whom we'd actually displayed next to at the AVN Show a few years ago and were thoroughly good guys.
JT's Stockroom has been selling "sex toys, bondage gear and restraints" on the internet since 1988 and are the original internet source, catering to the kink, to the masters and mistresses as well as their slaves, both experienced and novice beginners.
I believe we're the first transsexual company to work with them in this capacity as they are now an official sponsor of Transexdomination.com and we will be showcasing various products on that website, in various shoots. Why don't you take
a look at the Grooby Stockroom Store and see if there is anything you'd like to suggest that we use in a future scene?
Of course, it's not just for the super kinky shemale lifestyle sites like Transexdomination.com. Practically every transsexual I know, loves to either use toys on herself or on her friends (could that be you?). Our store features everything from strap on dildos, to buttplugs, women's fetish wear,
sex machines, cock rings, suction cups, blindfolds and much more – there is even a whole page on false pussies that a tgirl could wear, while hiding her cock and balls! (see it here).
So do yourself a favor. Buy discreetly. Buy from a name you can trust: GROOBY in conjunction with another company with integrity for their customers, JT's Stockroom and buy quality playthings.
We're always interested in your feedback and knowing what you thought of the products, how you put them to use and how we can incorporate into our future shoots across any of our sites.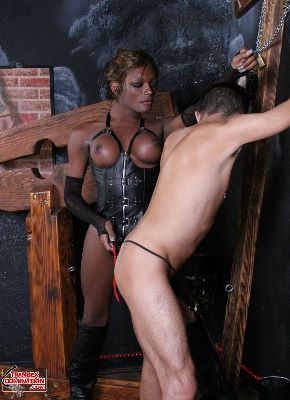 Mistress Amyiaa showcases clothes and crop from the Grooby Store.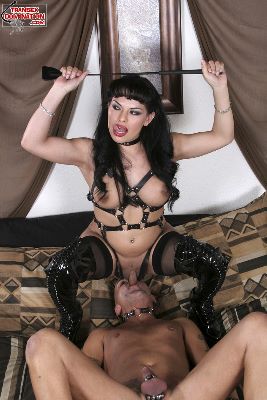 Mistress Foxxy showcases clothes and crop from the Grooby Store.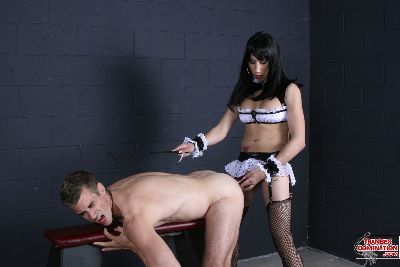 Mistress Jezebel showcases a crop and butt plug from the Grooby Store.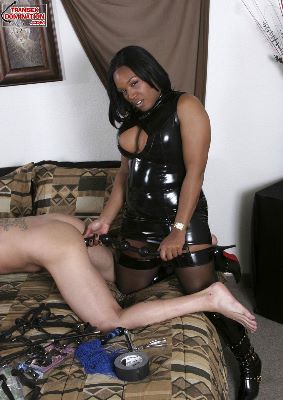 Mistress Madison showcases large anal beads and clothes from the Grooby Store.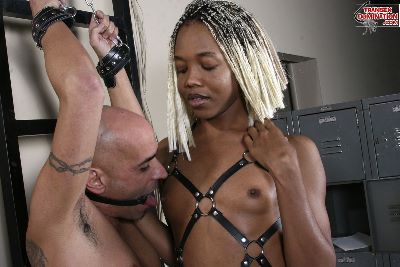 Mistress Nyobi Khan and Diezel showcase clothes, ball gag, and handcuffs from the Grooby Store.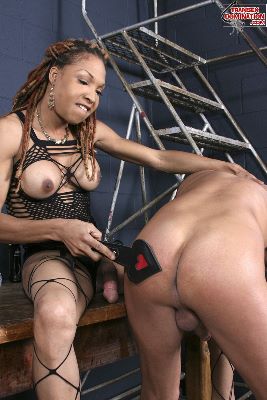 Mistress Vanilla showcases a crop and clothing from the Grooby Store.