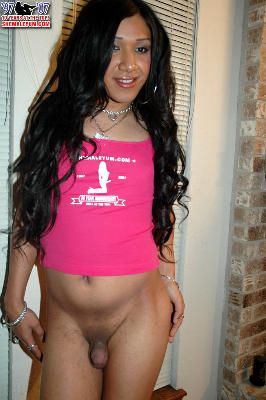 Braelyn is one of our relatively new models that come sporadically from SE Texas – generally Corpus Christi which might seem like it has more tgirls than usual. Destinee (see below), Tiffany aka Holly, Kayla Taylor to name just a few have all lived there in the past years. Is this because this is the home town of Shemale Yum photographer, The Commander?
PHOTOGRAPHER PROFILE – The Commander
I'm not sure if there would not be a Shemale Yum without the Commander, maybe some other horny, gun toting, beer drinking, NY replanted to Texas would have came along – and maybe he would have made tranny hunting trips South of the border into the now outlaw town of Laredo … and then again, maybe they wouldn't have. There have been pretenders to the title of Tranny Hunter but the true original is The Commander.
Shemale Yum started as a site with users giving their personal or collected images for the site – at this time it was a free site – and one of the first users to submit some photos of tgirls he'd met in the PI & Texas, was the Commander. I recall maybe 15 images, mostly non-nudes but the emails and traffic went crazy when they appeared on the site.
After some discussion with him via email we decided to try and get some original content for the site, The Commander took a trip to Laredo and mailed me rolls of 35mm film, which I then took to Joe's Basement in London to have printed and manually scanned them into the PC – to get on the website. This was pre-digital camera days. The resulting photosets were the first TS content shot exclusively for an internet website as far as I am aware. This is where not only Shemale Yum started but pretty much the birth of every other gonzo photographer of TS material for online use – and by proxy, every other Transsexual porn site. Day Zero.
The Commander has been shooting for us for 10 years although in recent years he's not produced as much content as he used to (not that he's slowing down – but with Laredo practically closed, there are less tgirls to shoot in his area). I've visited with him a number of times and always have an adventure with him – my first visit to Boystown was a real eye opener – and shooting our first ever videos in Mexico was very exciting.
Many of the models he has worked with in Texas, like Tiffany aka Holly or Destinee are first photographed as non-full time girls yet many have blossomed into the stars they are today.
I'm sure The Commander will be working with us for many years to come – un-covering, the newest and freshest "transies" in his neck of the woods. A pioneer.
Black Tgirls.com Winner : – One of my favourite all time models, who is from Texas is Destinee and was originally a Commander find. I was glad to see plenty of you have been paying attention – see more of Destiny on Black Tgirls or Franks Tgirlworld – also check out her DVD's at our NEW GROOBY DVD site.
Winners have been notified – one lucky guy getting 12 months on Black Tgirls.com and two others getting 6 months each.
Today's competition is for a DVD Goody Box. 3 Winners will get a Goody Box with DVD's (and maybe some other stuff!) of my choice!