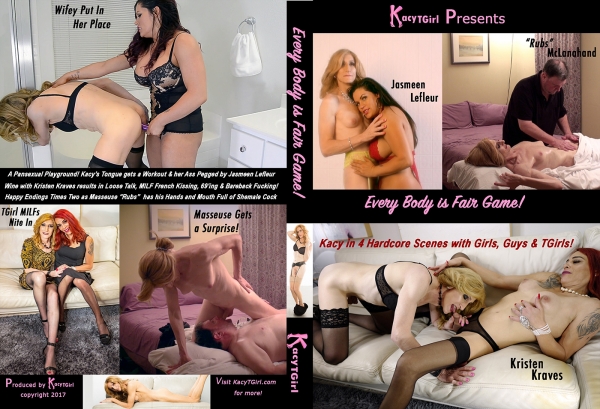 Los Angeles, CA – Grooby announced Kacy TGirl's "Every Body is Fair Game" is now available for download and streaming exclusively at GroobyDVD.com. This is the first non-Grooby title being featured on their new streaming website.
"We launched GroobyDVD as a platform to sell our own DVD content either via a streaming service or the ability to download," said Steven Grooby. "As we have the branding and are rapidly building traffic it made sense to offer it to other producers,  especially smaller or independent producers who may find it more difficult elsewhere.    We've also changed the exorbitant profit share that other services offer, to me more in favor of the producers with over 60% of revenue going to the DVD producer. We look forward to welcoming other producers and helping them build their brand."
"I'm excited about the opportunity to once again be associated with Grooby," said Kacy.  "Let's face it, they're the gold standard in tgirl content. And 'Every Body is Fair Game' is a perfect debut since it features 2018 TEA nominees Jasmeen Lefleur and Kristen Kraves."
"Every Body is Fair Game" stars Kacy TGirl, Jasmeen Lefleur, and Kristen Kraves in four hardcore scenes. Described as a "pansexual playground," this title has something for everyone.
GroobyDVD.com allows fans to easily stream or download Grooby's entire DVD catalog all in one place. Grooby's newest titles will be exclusively featured on the site first.  
ABOUT GROOBY
Founded in 1996, Grooby is the leading producer of trans erotica. In addition to operating over 30 membership sites, the company produces nearly 50 DVDs a year, and hosts the annual TEAs (Transgender Erotica Awards) held in Hollywood, CA.
In 2017, the company took over the editorial content for Transformation, the world's most popular transgender lifestyle magazine. For more information, visit Grooby.com.