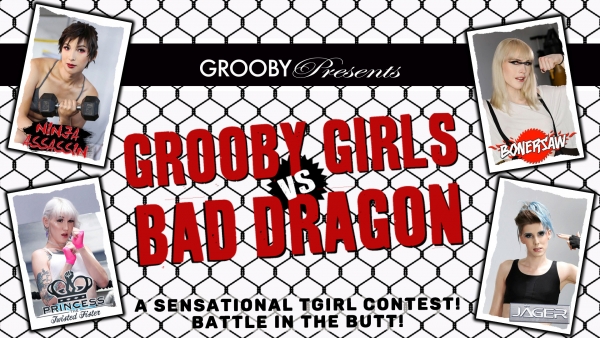 LOS ANGELES, CA – Grooby announced their latest DVD, Grooby Girls vs. Bad Dragon, a fantasy wrestling-themed series pairing up four of the industry's toughest contenders against Bad Dragon's most popular toys. The Grooby Platinum DVD is now available for purchase at the GroobyStore.com.

"This was a really fun movie to shoot. We rented a wrestling ring and enlisted four performers we knew would be up to the task of battling some of Bad Dragon's biggest toys," said Steven Grooby. "If you like the campy tone of 80's wrestling, director Buddy Wood incorporated that into his unique style of shooting."

'Grooby Girls vs. Bad Dragon' stars Alexandra Vexx as Jäger, Lena Kelly as Princess the Twisted Fister, Lianna Lawson as Bonesaw, Natalie Chen as Ninja Assassin. Each contender goes up against one of Bad Dragon's most popular toys (in increasing size): Nocturne, Pearce, Kona, and Echo. The toys seen in this ground-breaking series can be purchased directly at Bad-Dragon.com. The movie is available for purchase and streaming at GroobyStore.com.

ABOUT GROOBY
Founded in 1996, Grooby is the leading producer of trans erotica. In addition to operating over 30 membership sites, the company produces nearly 50 DVDs a year and hosts the annual TEAs (Transgender Erotica Awards) held in Hollywood, CA. More information about the three-day event can be found at theTEAShow.com.
In 2017, the company took over the editorial content for Transformation, the world's most popular transgender lifestyle magazine. For more information, visit Grooby.com or follow them on Twitter at @GroobyDotcom.