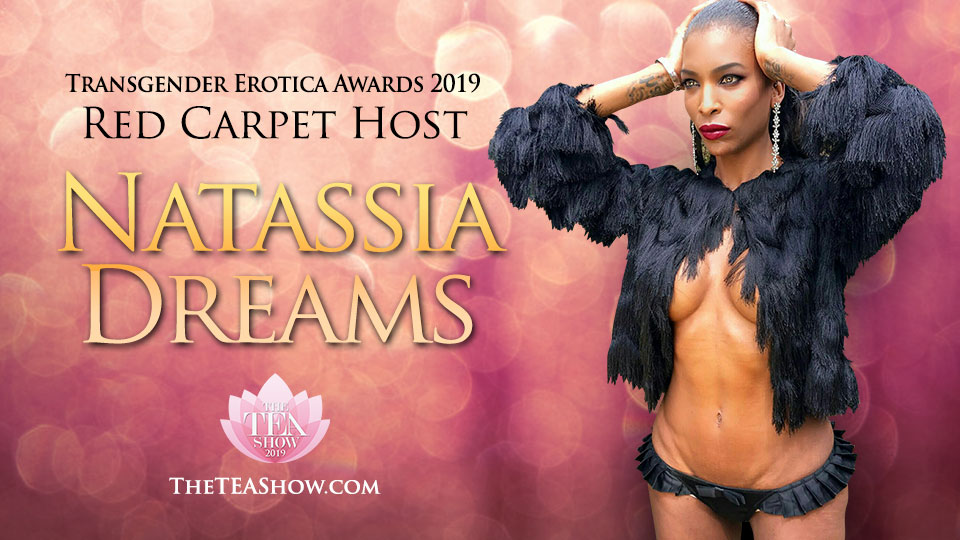 LOS ANGELES, CA
– The Transgender Erotica Awards is proud to announce TEA Lifetime Achievement Award winner Natassia Dreams as their red carpet host. The upcoming TEAs take place on March 17, 2019, at the historic Avalon in Hollywood, CA. "It's such an honor to be able to host the red carpet area at the upcoming TEAs," said Natassia Dreams. "I'm excited to get to know the many new and old starlets I've never met before! Everyone leave their egos at the door and let's have a GREAT TIME!" "We've known Natassia for a long time, and she was our first choice for our red carpet host for 2019, so we were ecstatic when she agreed," added Steven Grooby. "I couldn't think of anyone with more presence or ability to do this, and as someone who has worked as a model both in erotica and mainstream she brings that glamour and appeal to the role." Natassia Dreams is a TEA Lifetime Achievement Award winner and a multi-year TEA nominee. In addition to her successful career in adult entertainment, she has been recently featured on Pose on FX, the gender equality campaign commercial for Planned Parenthood, and in NYFW's runway show for Marco Marco. Follow her on Twitter at
@NATASSIADREAMSX
. The 2018 TEAs are a three-day event held in Hollywood, CA, kicking off with an official pre-party at the Bardot on March 15, a daytime fan convention on March 16, and ramping up to the awards ceremony on March 17 at the Avalon. More details about the event will be released in the months to come. Visit their official website at theTEAShow.com. The 2019 sponsorship packages are now posted to the website here:
https://theteashow.com/sponsors
Sponsor and media inquiries can be directed to Kristel Penn at kristel@grooby.com.
Keywords: TEA 2019, TEA, Transgender Erotica Awards, Grooby, Natassia Dreams, Trans, LGBTQ, Transgender, TGirl