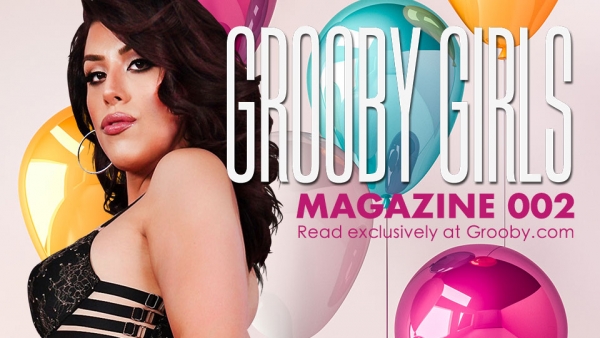 LOS ANGELES, CA – Grooby announced the second issue of Grooby Girls Magazine with cover model Crystal Malone is now available for download. The free digital publication is available exclusively at Grooby.com.
"The second issue of Grooby Girls includes a fun interview I did with our cover model, Crystal Malone," explained Steven Grooby. "We've also included information and resources we found relevant to share with our performers. Although this magazine is mostly aimed towards our Grooby Girls, we've included lots of fun content for our fans as well."
Issue #002 of Grooby Girls Magazine includes an exclusive interview and photo spread with Crystal Malone, a gallery of the Grooby Girls wearing their Grooby Gear, an informative piece about the adult industry by Jamie French, and more. To read past issues, visit Grooby.com.
ABOUT GROOBY
Founded in 1996, Grooby is the leading producer of trans erotica. In addition to operating over 30 membership sites, the company produces nearly 50 DVDs a year and hosts the annual TEAs (Transgender Erotica Awards) held in Hollywood, CA. More information about the three-day event can be found at theTEAShow.com.
In 2017, the company took over the editorial content for Transformation, the world's most popular transgender lifestyle magazine. For more information, visit Grooby.com or follow them on Twitter at @GroobyDotcom.