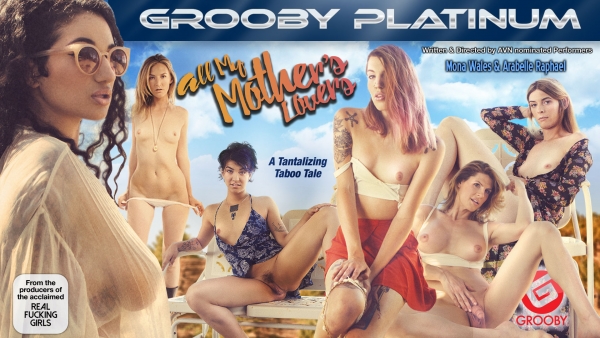 Los Angeles, CA – Grooby and Exquisite are proud to announce the release of their newest DVD, All My Mother's Lovers. The title is co-directed by and stars Mona Wales and Arabelle Raphael, with performances by Freya Wynn, Delia Delions, Mandy Mitchell, and Bianca Stone. It hits the shelves today and can be purchased at the GroobyStore.com on its own or bundled with Wales' award-winning directorial debut, Real Fucking Girls.
All My Mother's Lovers is a tantalizing taboo tale where young Freya Wynn finds herself following in her mother's (Delia Delions) footsteps to the front door of a lesbian commune and into the arms of her mother's lovers (Mona Wales, Arabelle Raphael, Mandy Mitchell, Bianca Stone). Seduced by the beautiful women living on the country estate, All My Mother's Lovers follows Wynn's sexual awakening.
"This movie is very special for Mona and me," said co-director Arabelle Raphael. "We just fell in love with the property when we saw it and we knew we wanted to make something beautiful and tender. It reminded us of a film we both watched as a kid. This is a re-telling of Bernardo Bertolucci's Stealing Beauty with a lesbian twist. This film is also about self-discovery, love, and family.  We made something personal and really sexy at the same time. Making this film felt very much like we were there living on this lesbian commune. We put a lot of work into this, I hope everyone enjoys it!"
Arabelle Raphael is a multi-AVN nominated performer who just launched her website ArabelleRaphael.com recently. She'll be launching another site in May and can be followed directly on Twitter @ArabelleRaphael for more updates.
"I loved making All My Mother's Lovers because this movie had it all, beautiful women, a stunning location, an awesome script that paid homage to both 1990s coming of age movies and 1970 nudist camp porn flicks," said co-director Mona Wales. "Like every movie I hope to make, this movie was made with a great amount of care and attention to detail the result of which is a porn movie that people want to pay for."
Mona Wales is an AVN-nominated and TEA winning performer. Her directorial debut, Real Fucking Girls, swept at both AVN and XBIZ in 2017 winning Trans Release of the Year. Visit her official website at MonaWales.xxx and follow her on Twitter @MonaWalesxxx.
"Just a few weeks after winning both AVN and Xbiz for her directorial debut 'Real Fucking Girls', Mona Wales returns as co-director with Arabelle for this fabulous release," added Steven Grooby. "I don't think I've seen anything like this in my 20 years working in transgender porn. It's stunning to look at, it has the right balance of story, romance, and sex, and it just all comes together beautifully – everyone involved should be very proud and I'm just happy we can be associated with it."
About Grooby
Founded in 1996, Grooby is currently based in Los Angeles and is the leading producer of transgender erotica. Operating over 30 membership websites, the company has numerous popular DVD lines and operates the GroobyNetwork.com, which gives models a unique opportunity to own and manage their own solo site. They are also the host of the annual Transgender Erotica Awards. For more information, visit Grooby.com.