Grooby Code of Conduct 2019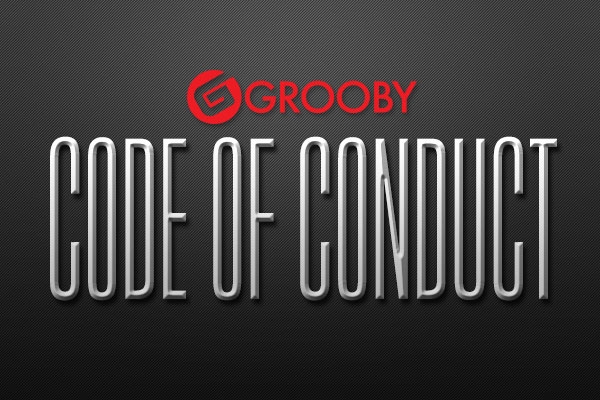 Grooby is committed to ensuring working conditions on all our sets are safe, and the well being of models, producers, and other staff is paramount.   We believe in the importance of transparency and communication between the performers and producers with respect, fairness, and dignity for all.
Performer Expectations
Performers are expected to arrive at set or be ready for pick up at the designated agreed time.  If you are late, you must let the producer know – it is at the discretion of the producer whether they can continue or cancel the shoot.  If the shoot is canceled due to performer missing the time slot, they will not receive compensation.

Performers are expected to arrive on-set sober and of clear mind.  Any performer arriving on set under the influence of alcohol and/or substances will have the shoot canceled and no receive any compensation.  Please do not bring alcohol/substances to the set.

Performers are expected to arrive on set in a professional manner including bringing appropriate outfits for the scene/s, being styled, nails and body groomed and with good hygiene.  Please discuss specifics with the producer.

Performers should treat producers and staff with kindness and respect.  Locations and studios should be treated with respect, and the performer should do nothing to draw attention to the shoot or location.

We comply with the standard testing and safety for shoots and work with the PASS system.  Performers are expected to have their own tests which can be verified in PASS, if doing these types of shoots. More information can be accessed here: https://fscpass.com

Performers must switch phones to silent during the shoot and keep them out of sight.  Performers may not take or make calls/texts apart from on scheduled breaks. Performers may not take photos on set unless specifically agreed upon by producer.

Please retain all communication with producer or Grooby staff (text messages, emails, etc).
Performer Rights
Performers have the right to be treated with respect at all times on set.

Producers will discuss a scene and expectations with the performer prior to the shoot day.  If anything does not coincide with your expectations, then we encourage dialogue between producer the performer and the producer to ensure you are both on the same agenda. The producer or the performer has the right to cancel the scene if it does not meet their expectations. You have the right to decline or agree to any sex acts proposed to you, both before or during a scene at any time.

Performers have the right to vocalize your concerns regarding your health and safety, or otherwise on set at any time, and request reasonable solutions to the situation.  You have the right to leave the set at any time.

Performers have the right to stop the scene at any time and check with the scene partner or producer if you feel uncomfortable or distressed, or you believe your scene partner may be uncomfortable or distressed.

We would like performers and producers to correspond via email or text, to state what expectations for the shoot are (sexual acts, scene partners, etc.) and to keep all correspondence.
Responsibilities of Grooby
Grooby practices an 'open-door policy where we encourage performers to contact us with any issues that arise.  Steven (

admin@grooby.com

) and Kristel (

kristel@grooby.com

) are available to address concerns and/or questions.  Discretion can be expected.

Grooby believes in treating performers with kindness and respect.  We wish to present you in the best possible light, and help your brand and image grow.  Please communicate to us any specific issues either before, or after the scene is released.  We wish for every performer to leave the set having felt they were respected, valued and the shoot was a positive experience.

Grooby believes in transparency and the importance of informed consent.  We are happy to explain any part of the shooting process or the marketing of content using your image.  Questions or concerns can be reached at the given emails.
On-Set Responsibilities of Grooby
Producers must reiterate the type of scene they are shooting (eg; 1 or 2 set solo, hardcore, etc) before your shoot.  If it is a hardcore scene, your scene partner will have been discussed as well as shoot length, sexual acts and any requests for costumes that you may need to bring.   The producer will also reiterate via text or email your payment for the scene.

All our model rates are published at

http://www.grooby.com/model-application-form/

and will be discussed before the shoot.  If you feel there are any discrepancies between the published rates and the amount the producer has stated, please address it with the producer or the company immediately.  If you have any concerns after the shoot, please contact Steven on (

admin@grooby.com

) *

Performers must bring a valid photo ID to your shoot.  This can only be State or Federal issued and should be a driving license, passport or other state ID.  The producer will be making copies of your ID. If you arrive without ID the scene will be canceled and you will receive no compensation.

Performers will be expected to complete appropriate paperwork either digitally or hard copy.  This may include a 2257 form, a model release, and a W9 tax form. Please read all paperwork carefully and sign/date each as specified.   Models can request copies of their releases to be sent digitally.
Performers may read the model release/2257 ahead of the shoot and seek their own advice if necessary.  We do not make changes to the model release. They may be downloaded from: http://grooby.com/newrelease.doc   and http://grooby.com/new2257.doc
The producer must interview all performers on set and verify they consent to the scene and discuss boundaries (and the boundaries of every scene partner) and respect those boundaries throughout the day.

Performers will be paid on the completion of the shoot and the paperwork.  The amount will be what was agreed on prior to the shoot and also noted on the model release signed on set.

In the event a shoot is canceled when the performer is on set, and the reason for cancellation is not the performer's responsibility, they will be paid a 'kill fee' of $100 to cover expenses and none of the content will be used.   If possible, the shoot will be rescheduled at the most convenient time.

The producer and staff will treat performers as a hired professional at all times.

The producer is required to have water available on-set at all times and snacks if the shoot is longer than four hours.
* we often are unable to decide what site a model is placed on, until after the shoots are delivered from the publisher.  In the event your scenes are published on a website with higher modeling rates than what you were paid, we will pay you the difference.

Points of Contact and Additional Information
If you wish to see your content, then we offer complimentary membership to our performers to the sites they feature on.  Contact

customerservice@grooby.com

with your performer name,  legal name and the producer you shot with.   This is intended for your own use and if passwords are shared, your access will be withdrawn.

Usage of content – all content is the sole property of Grooby.  We allow limited content to be used in your portfolios, for the promotion of yourself, and for social networks.  You must leave the logos on the content. If you wish to use content for the promotion of anything else (club nights, events, etc.) then you must contact us prior to using it

Tshirts/Logos – we do semi-annual branded GroobyGirl t-shirts or merchandise.  We aim to get as many of these sent to models as possible. If you didn't get a tshirt on set, please complete

http://www.grooby.com/existing-models-form/

  We do have a limited amount of merchandise and will prioritize those girls who take photos for social media wearing it.
If you have a question or concern, please contact us at the emails below.   You can expect reasonable discretion and we will try to address all concerns with gravitas and respect.
Steven – admin@grooby.com
Kristel – kristel@grooby.com