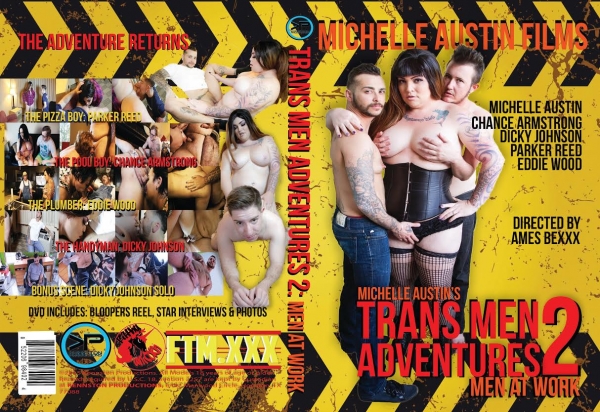 Houston, TX –  Michelle Austin Films and Kennston Productions team up to bring the award nominated DVD Trans Men Adventures, a sequel: Trans Men Adventures 2: Men At Work. Full of hot hardcore sex between a trans woman and four trans guys.
Michelle Austin Films was formed this year and this is their first release on their label. The successful, award winning transsexual star Michelle Austin is now putting her name behind her products. She will be directing and producing under her new label Michelle Austin Films. It only seemed fit that she paired up with Kennston Productions to bring out her first DVD and future projects.
Trans Men Adventures 2: Men At Work, is an adventure to poke fun at old mainstream porn stereotype scene situations. Mostly comical dialogue, and cheesy scenes including a plumber, handyman, the pizza boy and the pool boy. Last year, Michelle Austin took an adventure for the first time appearing on film with trans guys. The film was such a hit that she decided to go on another adventure with some new guys and two returning guys. The DVD features three TEA 2014 Nominated FTM Performers; Chance Armstrong, Dicky Johnson and Parker Reed. And they introduce the world to new FTM performer Eddie Wood. This DVD is packed with four hot hardcore scenes and one bonus solo of Dicky Johnson. The actual DVD comes with bonus features: Bloopers/Outtakes that will have you laughing your ass off, Star Interviews and Photos.
Directed by Ames Bexxx in his first porn directorial debut. This New York City based photographer turned film maker has made a name for himself in the porn world this past year. By helping film Trans Men Adventures, and being nominated for Best Photographer at this years TEA Awards. "I am so excited thatMichelle Austin gave me the opportunity to direct Trans Men Adventures 2! I love working with her and getting to help showcase FTM performers in the industry!" says Bexxx "I love having Ames on set working with me, because I have taught him what I like. He knows my style and approach, and brings in his own style as well. We mesh well together, and doing the sequel with him was tons of fun!" Austin replies.
The DVD is now available at trannyadultstore.com, and will be available on VOD sites in the coming weeks. The DVD will only have bonus features that wont appear on VOD. You can also get information on wholesale from Kennston Productions at Kennston.com and follow Michelle Austin Films on Twitter attwitter.com/MAustinFilms.