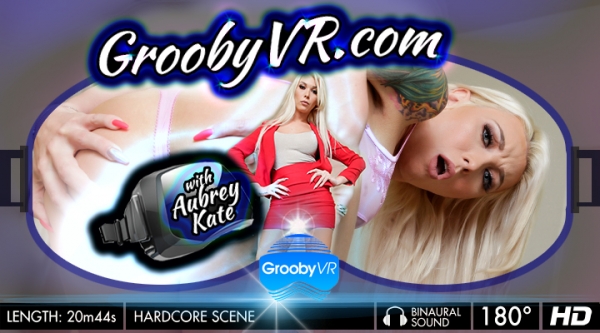 Los Angeles,  CA – Grooby, the leaders in trans erotica, announce the launch their first virtual reality content on their brand new VOD site, GroobyVR.com. The first six scenes include some of the top trans models in unique and immersive scenes. More content is scheduled for release in the near future.
"We've been working on getting VR online for almost a year, after a few near misses we decided to wait to work with Paradigm Net Media, Inc. as their technology seemed the most in line with what we wanted to do," stated Steven Grooby. "Most trans VR scenes around already appear to be just emulations of mainstream VR scenes, but we're catering to a different audience. I think our 'Being Aubrey Kate' and 'Korra & Casey – Real Tgirl Lovers'  are groundbreaking and going to really hit home with some fans."
"We decided instead of being tied to a pay site schedule to go with a VOD system which will allow us the see what scenes people are reacting to the best, and then respond quickly," added Grooby. "This first batch is us testing the waters but we're fairly confident after initial feedback we will be starting the second round of shoots very soon."
GroobyVR.com launched with six scenes currently available for purchase. Aubrey Kate stars in both "The Bitch" and a unique hardcore scene called "Being Aubrey Kate" where the viewer can experience a scene through the eyes of Aubrey, Natalie Mars presents her "Instructional Anal Toy" scene, Shiri shines in a hot blowjob and fuck scene as if the viewer were there, Natalie Mars and Shiri play with each other before joining into a full-on threesome, and a groundbreaking scene through the eyes of real-life lovers, Korra Del Rio and Casey Kisses, where Casey seduces and makes love to Korra, before switching to Casey's point of view.
Media inquiries can be directed to kristel@grooby.com.
Founded in 1996, Grooby is currently based in Los Angeles, CA, and is the leading producer of trans erotica. Operating over 30 membership sites, the company has numerous popular DVD lines and operates the GroobyNetwork.com, which gives models a unique opportunity to own and manage their own solo site. They are also the host of the annual TEAs (Transgender Erotica Awards) in Hollywood, CA. For more information, visit Grooby.com.