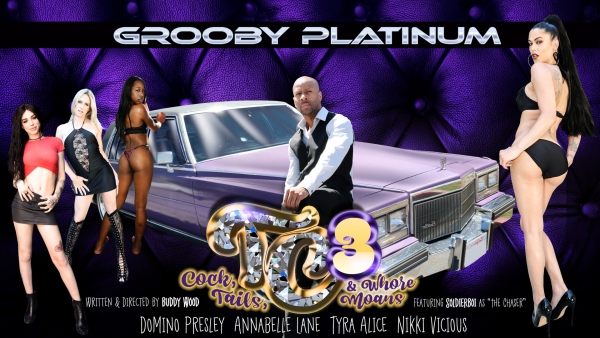 LOS ANGELES, CA – Grooby, the leader in trans erotica, is proud to announce their highly anticipated title, TC 3: Cock, Tails & Whore Moans. The Grooby Platinum title is directed by Buddy Wood and now available for purchase at GroobyDVD.com.
"The original 'Tranny Chaser' DVDs were instant classics starring some of the hottest trans models of those years with a hilarious storyline which paid homage to the John Holmes or Ron Jeremy movies of the 70s and 80s," says Steven Grooby. "It's taken so many years for our Grooby auteur, Buddy Wood, to come out with the final chapter of his trilogy that we didn't think it was going to happen!  Again starring some of the hottest trans models of the past few years and with Solider Boi in the title role, Buddy has produced a movie that is so different from much of the mediocrity we see today. If you want a story based trans tale with some of the best action, you're not going to get better."
"Domino Presley and I hang out at a bar all the time that we both really wanted to use in a movie and my good friend has a purple Cadillac that absolutely needed to be in a porno," added director Buddy Wood. "So there's really no other movie you could possibly make with a bar and a purple Cadillac other than 'TC3: Cock, Tails & Whore Moans.' It just happened. Completing a perfect 'chasing' trilogy. Honestly I just really wanted a 'chaser' trilogy!"
TC3: Cock, Tails & Whore Moans stars award-winning performer Domino Presley, Annabelle Lane, Tyra Alice, Nikki Vicious, and Soldier Boi as "The Chaser." The movie is written and directed by award-winning producer, Buddy Wood. Purchase or download this movie and other Grooby titles at GroobyDVD.com.  
ABOUT GROOBY
Founded in 1996, Grooby is the leading producer of trans erotica. In addition to operating over 30 membership sites, the company produces nearly 50 DVDs a year and hosts the annual TEAs (Transgender Erotica Awards) held in Hollywood, CA. More information about the event can be found at theTEAShow.com.
In 2017, the company took over the editorial content for Transformation, the world's most popular transgender lifestyle magazine. For more information, visit Grooby.com or follow them on Twitter at @GroobyDotcom.