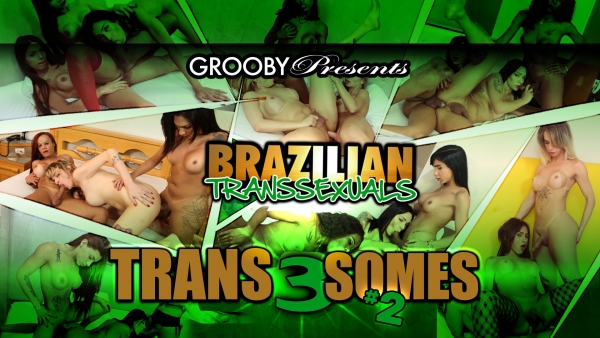 LOS ANGELES, CA – Grooby released their latest DVD this week, Brazilian Transsexuals: Trans 3 Somes #2. The title is available for streaming and physical purchase through GroobyDVD.com.

"The newest installment of our Brazilian series is a great addition to anyone's porn collection," says Steven Grooby. "Damazo shot some beautifully sexy scenes and we picked some of our favorites!"

Brazilian Transsexuals: Trans 3 Somes #2 is directed by Damazo and stars Carla Novaes, Adrielly Bronze, Lara Machado, Joyce Naturelly, Nanda, Molinarry Le Farias, Luana Pacheco, Nathalia Castro, Renata Farias, Marcela Herrera, Alice Marques, Yasmin Dornelles, Patricia Campbell, Yasmin Dorneles, and Hanna Rios. Purchase your copy at GroobyDVD.com.

ABOUT GROOBY
Founded in 1996, Grooby is the leading producer of trans erotica. In addition to operating over 30 membership sites, the company produces nearly 50 DVDs a year and hosts the annual TEAs (Transgender Erotica Awards) held in Hollywood, CA. More information about the three-day event can be found at theTEAShow.com.
In 2017, the company took over the editorial content for Transformation, the world's most popular transgender lifestyle magazine. For more information, visit Grooby.com or follow them on Twitter at @GroobyDotcom.