Wendy Williams Inter-Racial Gangbang – first look.
Posted on March 19th, 2008
Grooby Productions is the proud sponsor of "A Shemale Gangbang : The Inter-Racial Version" starring the hot Wendy Williams and 8 black guys who are desperate to fuck and get sucked from the red-haired, shemale superstar.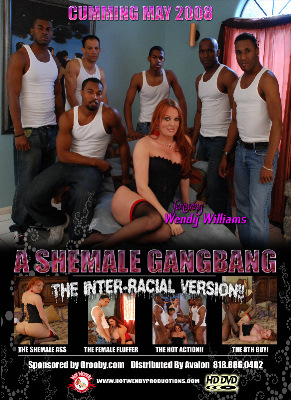 The gangbang starts with Wendy in the bedroom with Black Hawk, she tells him how she has a fantasy of having sex with a lot of hung, black men. After Hawk and Wendy play a bit he tells her he has a friend and in comes Chuck who is happy also get his cock sucked and fuck Wendy doggie style.
Chuck tells Wendy he has a surprise downstairs. Once Wendy gets downstairs she sees busty, 40FFF Amber Foxxx is in the midst of 7 hung black guys getting sucked, fucking her with a toy and playing with her huge tits. Wendy then joins in and ends up letting all 7 guys fuck her.
Finally after getting fucked doggie, missionary, and cowgirl she takes 7 big loads on her face and tits. Just when Wendy thinks its over she opens up her door to see 10″ thick DC laying on the bed wanting his turn. Now this will make 8 black cocks and Wendy is very excited, she is so excited that she cums LOADS and I stress a lot when DC is banging her missionary. The scene ends while DC strokes his thick cock by placing the head of his dick just slightly in her ass while he cums and she pushes it out for all to see, YUM!
Find out more about Wendy Williams and her sexy adventures at. Hot Wendy Williams
Categories: Uncategorized