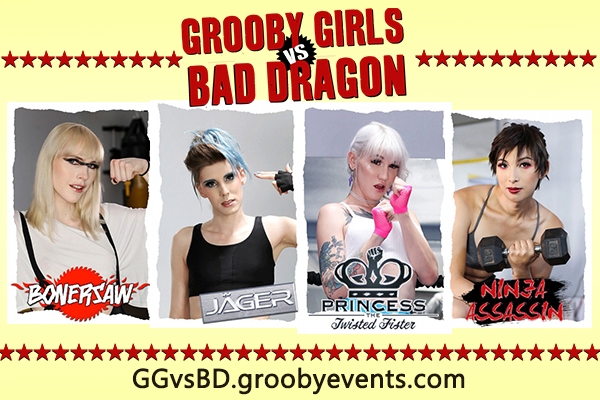 Leading trans erotica company Grooby teams up with fantasy toy makers Bad Dragon for a retro-inspired wrestling web series titled, Grooby Girls vs. Bad Dragon, launching today.
LOS ANGELES, CA – Grooby and fantasy toy makers Bad Dragon debuted season one of their highly anticipated "Grooby Girls vs. Bad Dragon" wrestling web series today. The first season features Lena Kelly, Lianna Lawson, Alexandra Vexx, and Natalie Chen.
"This is the first of our new 'web series,' which is a way for us to try different niches and ideas and present them to our supporters without investing in a full site," said Grooby CEO Steven Grooby. "With one price for the whole season pass, users get to see the whole series without rebills.  We're really happy to be partnering with our friends at Bad Dragon to try this, and we had a lot of performers interested in being part of it, but the four who came in were amazing. I hope people enjoy it, it combines a lot of comedy elements with porn.
Grooby Girls vs. Bad Dragon pits trans stars Lianna Lawson, Alexandra Vexx, Natalie Chen, and Lena Kelly against four worthy foes from Bad Dragon's innovative toy lineup. With each round, Bonersaw, Jäger, Ninja Assassin, and Princess the Twisted Firster face off against a progressively larger Bad Dragon contender. See who wins season one at ggvsbd.groobyevents.com.
ABOUT GROOBY
Founded in 1996, Grooby is the leading producer of trans erotica. In addition to operating over 30 membership sites, the company produces nearly 50 DVDs a year and hosts the annual TEAs (Transgender Erotica Awards) held in Hollywood, CA. More information about the three-day event can be found at theTEAShow.com.

In 2017, the company took over the editorial content for Transformation, the world's most popular transgender lifestyle magazine. For more information, visit Grooby.com or follow them on Twitter at @GroobyDotcom.