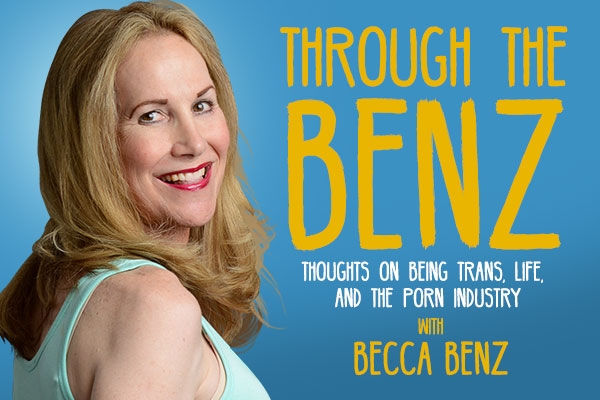 Kayleigh Coxx is someone who caught my attention the first time I saw her on Twitter not only because of her stunning beauty but also because she is intelligent and articulate and not shy about expressing her opinions, which makes her Twitting feed very interesting. But most of all she seems real and genuine and is someone I can relate to. So, this is an interview I was really excited to do because I felt Kayleigh would have some interesting insights to share, and also because I have to admit to having a bit of a crush on her; those eyes of hers and that smile are beyond sexy! And it's not very often that I get the chance to interview a fellow Oregonian! Kayleigh is flat out gorgeous and she has a natural beauty that shines through in her pictures and videos, so it's no surprise that she her recent sets on Shemale Yum have done so well and garnered her a strong following. And like all her other fans, I hope to see more from her soon!
Hi Kayleigh, and thank you for doing this interview!
Hi Becca!!! Thank you for having me 😀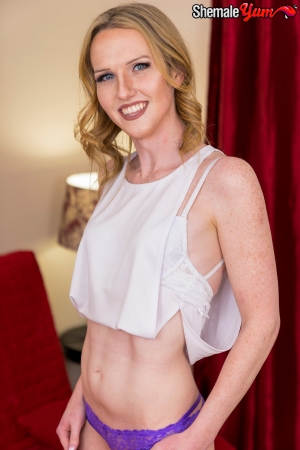 Congratulations on your most recent set coming out on Shemale Yum! How has the reception been for the sets you've released with Grooby?
It's been fantastic, I was really taken aback by how much people liked my first set. It's been really amazing to see the directors and actual porn stars (that I looked up to for so long!) who said I had a great set.
When can we look forward to seeing more from you?
That's definitely the plan going forward, I hope to really broaden my social media with a bit more content once I get all moved out. Current limitations of living at home with parents and doing porn!
So you cam from home with your parents there?
I do! My parents are unaware! I tend to do it late at night and I lock the doors and put something under the door to stop the noise! The giant ring light, mountains of sex toys/lingerie, and constant traveling probably has tipped them off though! I don't know what they think I'm doing. I think that they think I do graphic design consulting ????????
And more congrats are in order for being named the Shemale Yum Model of the Month for April! As a Model of the Month myself in December 2014 I know how much it means to be selected.
Thank you, I didn't expect it truthfully and am very thankful to have been selected. Thank you Grooby. Thank you Becca!
You've worked with Grooby as well as Christian XXX with Pure TS. Are there any other sites you'd like to do shoots for?
Sites I'd like to work for… Hmm… I mean the main ones that jumps out to me is TransSensual, SMC, & Trans500? I would also like to see some of the normative-straight brands like Brazzers, Wicked, etc branch out and dip their toes in the transgender side of porn. I just love all of those site's production quality. I would love to shoot anything with Dylan James. Ay, Chihuahua! <3
Christian XXX is a controversial figure in the world of trans porn; people either seem to love him or hate him. You posted the following tweet about him: "I really wanted to give a special thanks to @christianxxx1. He's taken care of me like a brother, and he is an extremely special guy to me."  Can you tell us about your experiences with Christian and why he's so special to you?
I greatly appreciate Christian's willingness to start me off in the porn industry. He took care of me post-surgery and that's more than I could have asked anyone for. I'd rather leave it at that.
How did you get started working in the porn industry?
Whew, this is a strange story. So, I was seeing a couple for casual sex and they asked me to cam a few times, I said "No," and "It's not my sort of thing," and so we grew apart. Then one day, I asked the guy of the couple for a dirty picture of me he took sucking his dick because I no longer had it. Conversation eventually leads back to the "Want to cam with us?" question, and this time I caved. Maybe I had a glass of wine too many, maybe I was feeling adventurous who knows! That was basically late November/early December. Later that month I think messaged Christian, or he messaged me—not sure, on Grindr (of all places) and I thought it was a troll account, turned out it was actually him! He offered me those scenes and then the rest is basically where we are today.
Is being a model in porn industry really as glamorous and interesting as people assume?
I mean porn (and camming) have led me to do things I would never else have. Go places, do things, meet people etc. But on set it is pretty basic, it's a camera, cameraman, and sometimes just you, or you and your costars. There's no fancy red carpet to your dildos and butt plugs. No personal anal douche assistant, nothing! Camming sort of prepared me for what to expect.
What's your favorite part of the job and your least favorite part?
Favorite part of the job is the hot fucking sex! I mean hands down, this is easily the best part. I mean the guys in this industry know how to lay pipe. It's almost disappointing going back and getting dick from hometown boys. I myself feel that I am almost overdoing it when having sex with someone who isn't in porn. Least favorite part is actually a hard question, I mean I enjoy a scene from start to finish almost entirely. Maybe the not being able to eat mass quantities of Taco Bell because I have a body image to maintain lol.
For models who are looking to get into the industry what advice would you give them?
Gosh if anyone actually wants my advice! My advice is you need to get yourself out there go put your pictures on Reddit or something where criticism is given about your look, passing/not-passing (I know this is very controversial—but if you want to be in most Trans porn it's the measuring stick). Bare in mind that a lot of these places kid glove you so look for critics. My best friend is a very blunt genetic girl, who I adore to pieces and absolutely dearly love, she would give me no-nonsense answers (sometimes it hurt) that really helped me progress. Anyways LEARN MAKEUP. When you think you're good, you're not. Keep pushing yourself to LEARN BETTER MAKEUP. However, if there's any piece of advice I want to give, it's that no one, not even the prettiest genetic girl, is built without some masculine or unattractive feature—you don't need a different body you just need to learn to love the one you have! Change whatever you want but don't lose sight of what makes you original!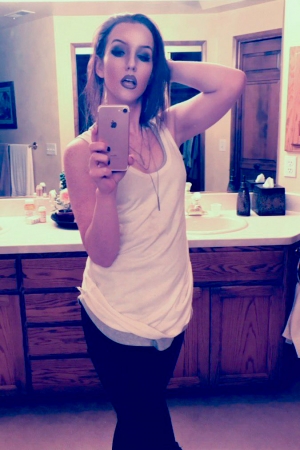 So be honest; what's it really like doing a shoot and having sex in front of the camera?
If you aren't kinky to begin with you're probably gonna have a hard time. I didn't realize how much of me is really a weird kinky person. And I love it I might add. Think porn being… having sex out on the balcony of your apartment… in the middle of NYC… during the day… and you're just drunk enough to say all the dirty shit you hold back most times. To me I would do that hundred times over and sober! I love it, and I love the dirty thought of hundreds, thousands, of guys jerking off to it.
You're very active on social media and you tweet about a wide range of subjects which makes your Twitter feed very entertaining. Do you enjoy interacting with your fans on social media?
I love seeing fans on Twitter, Instagram, etc! I fangirl and fawn over different porn actresses/actors myself and I can't help but follow all the hilarious and talented makeup artists that are on twitter. If someone actually has something interesting to say to me too and they're a fan it always makes me happy. I also love seeing all the different types of people who are into my sets!
One of the subjects you tweet about a lot is food; including your love of Taco Bell. A girl after my own heart! When did your love of Taco Bell begin, and what is it about their food you love so much?
Interesting question. As a younger kid in middle school I remember Taco Bell had a "4th meal" ad campaign and I went and ate Taco Bell 4 times in one day. Not a healthy choice, but I was young and dumb! Basically ever since then I've been sorta hooked!
Favorite burger place? -Good question! Until about a month ago I would have said Cornucopia in Eugene! but now it's got to be Fukuburger in Las Vegas. OMG so good.
Taco Bell or burgers? -TACO BELL OVER EVERYTHING.
Favorite kind of pizza? -Quote directly from my tinder "My favorite pizza topping is sausage, don't fuck with me if you like cheese pizza. Cheese isn't a topping you whore."
How long have you been camming? Which do you enjoy more, camming or doing shoots?
Camming started in about early December. It depends honestly sometimes between the two which one is better. Sometimes camming is super fun and tips are coming in and you have interesting/hot private shows and then other hand it's hard to give up those deep-dicking, super hot-bodied sexy times. I like to talk, like a lot, so camming gives me that opportunity to interact with people which I really love. As anyone who comes into my cam shows can probably attest to. My cam show is either running my mouth or cumming! I like them both equally because they are pretty different. Being good at camming doesn't necessarily make you good at porn and vice versa.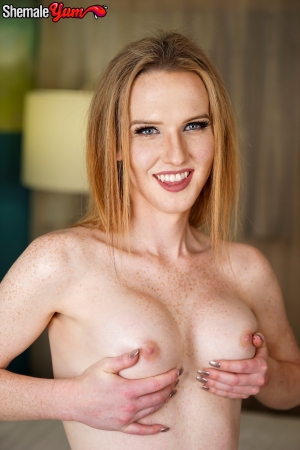 You recently had breast augmentation surgery; can you share what that experience was like?
Different! It's honestly not that bad of a recovery. Pretty quick and easy. I mean there was the strange feeling of like "What are these big oranges attached to my chest?" Though I love what I see in the mirror every day even more! Of course there was the fear of a bad result or worse but it helped me confront some of my insecurities too! I was a bit nervous doing it since none of my friends from home were able to come with me, so I was kinda on my own. All went well and am healing quickly.
You've mentioned on Twitter that you play the piano. Is music something you enjoy and do you play any other instruments?
I am a piano player and I used to be able to play the guitar. Guitar is almost impossible with acrylics all the time. Although guitar was always difficult because I have small hands! Same thing for piano too. I'm a creative person at heart, I like to do graphic design, I used to produce EDM music as a passion and I even got asked to DJ as a paying gig at one point. However I'm pretty private with my art, the introvert in me fears the criticism. Art though really for me is a way to express myself in a way, and it's one of those things where I get so focused on making the project better or playing something better that I completely forget about anything else.
As a fellow Oregonian I'm curious if you enjoy living in the Pacific Northwest?
I love how different Oregon and really specifically Eugene/Portland are from the rest of the USA. There's nothing quite like the camping here either. And the coast!  The coast is… it's strange, it's scary at times, and beautiful because of those things. One of my favorite things to clear my mind was drive to the coast and drive as far down or up the coast as I felt and then take the offroads back. Cheesy I know. There's silence and so many pretty trees and rivers that you don't really get in other places and parts of the country. I hate the rain and the cloudiness 8-months out of the year, and that's why I'm moving to the big LV. Sun sun sun.
It sounds like you're into camping?
I do! I know it doesn't fit the wearing lots of makeup and "getting my hair did" persona I sorta portray, but I love camping! The isolation and the outdoors are amazing. And when you're with friends you finally start to talk you start drinking and it's a blast! Salt Creek Falls or basically anywhere up the coast are my favorite places!
Why did you decide to move to Vegas and when are you moving? And may I add I'm sorry to see you leave Oregon 🙁
I believe my last trip in April was the tipping point. Even from the first time when I flew out to meet Christian and it was snowing in Eugene I think I sorta knew. What really made the difference was I felt like I made some really good friends out there and I knew it would make sense. Also it's a great place I hear if you want to shoot porn 😉
I hear ya. When I l went to Los Angeles in March for TEA it was so hard leaving the warm sunny weather there to come home to the cold and rainy Portland weather. I can definitely see the appeal of Las Vegas! And it does appear the porn biz is moving away from California and into Vegas.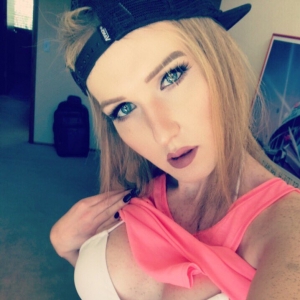 What was your childhood like and when did you realize you were transgender?
My earliest memory of being transgender was trying on girl's clothes when I was like in preschool maybe 3-5years old? My family is… different. I have two much older siblings almost 20 yrs older and then a 3yr older brother. All males. Maybe it was only natural when it turned out I wasn't a boy in gender. I had a kind of stereotypical childhood. Always battling with acceptance and the confidence to come out as transgender throughout. I always had mostly girl friends growing up, a few friends knew about me being trans and spread the rumors and such and I was made fun of etc. I'm 25, so back 10 years ago when I was younger the atmosphere and acceptance for coming out as trans was much different today. It led me to being closeted until really about 22 years old. I had finally reached the point I decided that I no longer cared about anyone's negative opinion of myself being trans and so I got the help I needed and about a year and a half later I got on hormones. I've been on hormones for about a year and a half now.
Is your family accepting and supportive of you?
In an odd way. I made the transition abruptly and to my surprise there was barely any family/coworkers/family-friends who recognized me as the other person but transgender, so they sort of and in some cases refer to me as the daughter they never told people about. Which has created it's problems… when my health-insurance dropped me because I was not the person they had on their coverage list. In private they are very supportive, I understand it's hard and different. I appreciate the values they gave me and the discipline they taught me nonetheless. My parents are a much different generation, in their late 60s.
Do you find it difficult to date being trans? Does working in the porn industry make it harder or easier?
With any trans individual you'll find the answer to that question is at points in life it is, and at others it's no different than being any other stranger on the street. I mean I've had credit cards frozen because they thought I was some malicious girl attempting to screw up some guy's credit card, and then on the flip side I've had doors opened and drinks bought etc that any girl in the world is privet to. I don't think porn has really changed my acceptance or lack thereof. Porn has certainly adjusted my normal life in dating especially and like the assumption that I must be horny 24/7 only thinking about sex individual. I love sex but I also have hobbies -_-
What do you feel are the biggest issues facing the transgender community right now?
I'd like to preface this answer with, I am not political and I am not pointing fingers at any particular person or politician. I think there are a lot of issues in the trans-community. I think one of the biggest issues (as a transgender woman) is the distinction/perception of passing-transgender people and non-passing-transgender people vs transgender people as a whole. Although I think that our tendency is to hide behind passibility sometimes to avoid dealing with actual trans-threats. I certainly think, as we all know, we have a ways to go before the end of discrimination—but my god does it feel a lot better than 10 years ago.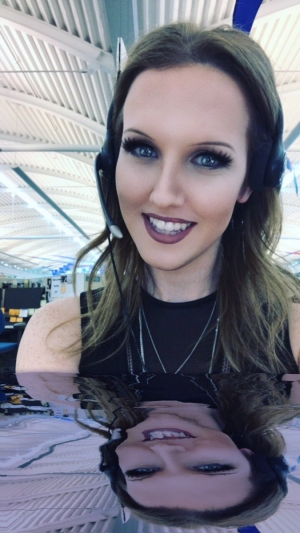 There continues to be a negative perception of the adult entertainment industry and those who work in it by mainstream society. What can we as an industry do to break down those stereotypes and get people to view us in a more positive light?
Hard question to answer! Honestly I wish I knew the exact answer. I find that there is this common misconception that people who work in this industry just have sex for fun and then put it up on a website and that's it. Yes sex is fun, very fun in fact, but it takes time to do hair, makeup. Creativity and artistic design to come up with an interesting scene. Good camerawork. Good editing. Great sourcing. So on so forth. Also someone's body didn't just happen to be good looking it's because that guy/girl went to the gym and continues to go to the gym so you can see his/her sexy ass plow trannies/girls/guys whatever you're into. Yes some of these things are things everyone does but not to the degree that the really good people in porn do. And also the art of being sexy on camera as you're getting fucked/fucking someone is not quite so simple. I mean for goodness sakes the straight porn industry has so many HORRIBLE renditions of these casting couches where you have directors speaking on camera and girls like totally pulling themselves out of the scene. Like do you want to watch that or do you want to see Ricky Johnson fuck the bejeezus out of August Ames or like Christian XXX fuck Sarina Valentina (trans-equivalent). The product speaks for itself. I know that's more of a justification, rather than a "what can we do?" but that's like idiots thinking they could be pro golfers, gamers, etc, just because they do it on their off time occasionally.
Where would you like to see yourself in ten years?
I don't know, I don't really have a certain goal. I want to do big things, but I hope if I'm lucky I will be doing something interesting with art, whether it be makeup, graphic design, or music and I would be happy. But truthfully I'm so new to all this I'm trying to figure out where I want to go from here in porn/camming and how long I want to do it for! Oh and maybe I'll have a boyfriend at that point ????
What is something people would be surprised to learn about you?
Hard to surprise people now that I've practically bared all my interests and other life things on social media. Especially after exposing my insatiable desire for Taco Bell. Possibly that I'm actually really intelligent, I get painted as a ditzy cute girl or even sometimes as dumb, but I have depth, intelligence, and enjoy my boundaries being pushed out from where I'm comfortable. And if that corny answer isn't good enough, this one seems to always to get a few ???'s I only eat one meal a day! Just the one. And sometimes that one meal is Taco Bell :v
Your answer was not corny at all and it shows exactly why I was so excited to interview you; to show there is more to you than just good looks. If society can see past the stereotypes and look at the real people who work in porn and see the intelligence and kindness and the good qualities it will go a long way towards putting an end to the stigma of being a sex worker. So, thank you again for the interview Kayleigh, I really enjoyed it and I'm an even bigger fan now that I've gotten to know more about you.
You can follow Kayleigh on Twitter at @kayleighcoxx84