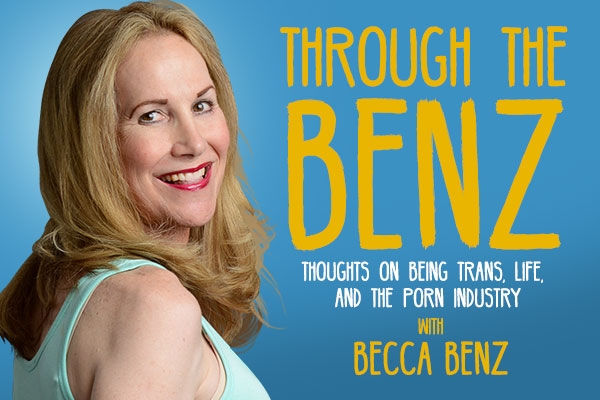 Raven Roxx is a fan favorite who keeps busy with her dancing, camming, and of course making porn for her many fans! I had the pleasure of interviewing Raven and learning more about this fascinating lady!
What was your childhood like and when did you realize you were transgender?
I had a pretty typical childhood.  We weren't rich but we weren't poor.  The common misconception is that transgender people were molested as kids, I was not.  I was pretty happy most of the time doing all the normal boy things like playing baseball, riding bikes, sledding, and camping.  I actually knew I was different at 4-5 years old, it's the first time I ever put on something that would be considered "girl." It just felt right, but at the time I had no idea what to call it. Truthfully until the internet was easily accessible I thought I was the only one in the world that felt this way.  I had cross-dressed my entire life, but I guess it wasn't until my mid 30's that I started thinking maybe this is more than just weird feelings and urges.
Was it a process for you to come to terms with the fact that you were trans?
It was!  I long 38 year process.  I'll pick up from my mid 30's since before that was covered in the previous question.  I knew another person who was a crossdresser but he worked at the VA.  I'm a veteran, and he explained that recently the VA started covering therapy and medications, so I ended up going to the VA and started the process.  The first thing I did was meet with a gender therapist, and after three months I was referred to the endocrinologist.  I continued therapy for two years total and I highly recommend it.  I ended my therapy the day I went as Raven, she looked at me at the end of the session and said "you don't need me anymore, I think we are done."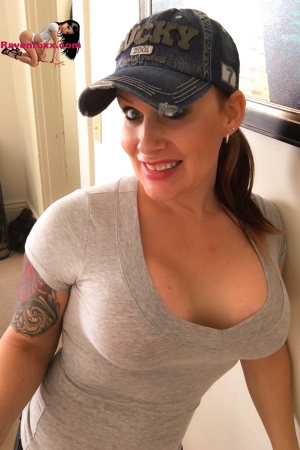 Is your family supportive and accepting of you?
Oh my gosh, overwhelming yes!  My parents took it very well all things considered.  I asked my mom once if I disappointed her and her response was "I still have a son (my brother), I just have 3 daughters now." That was a teary moment.  My brother and sisters all took it very well, and they are very supportive.  I'm truly blessed in the amount of family I kept because I know a lot of girls lose everyone.
What advice would you give to someone just beginning their transition?
It's never too early to start working on your female voice.  It takes a long time and a lot of practice, so start early.  You can ace the clothing, makeup, hair, and mannerisms but if you don't work on your voice you will out yourself as soon as you open your mouth.  I waited and didn't work on my voice until the end and wished I had started earlier.  You don't need to see a speech pathologist or have surgery in most cases.  I used voice memo on my iPhone and a $6 tutorial I found online.
How did you get started working in the porn industry?
It was kind of like an escalation process.  When the excitement of transition began to subside, I was approached by Kimber Haven, who was dancing at Wendy Williams Lexington tgirl parties.  I attended the parties but did not dance.  She knew I was bored and suggested I ask Wendy if she needed dancers, which I did, and I now I am a dancer.  After that though discussions of doing some porn started floating around.  I guess you could say that was around the beginning of Bad Girl Mafia Productions.  The first movie I ever did was a solo masturbation scene and OMG it took me forever to get off!
You have what many would consider to be a dream job, being a model in the porn industry. Is the job really as glamorous and interesting and much fun as people would assume?
What everyone sees is glamorous but behind the scenes is not nearly as glamorous.  What you don't see before I shoot is the 12-24 hours before I don't eat.  Anal douching……yes it's gross, but it's sooooo necessary. Water based lube is very sticky when it dries, just saying.  Silicone based lube is almost impossible to wash off.  Some lube may look like cum but it DOES NOT taste like cum.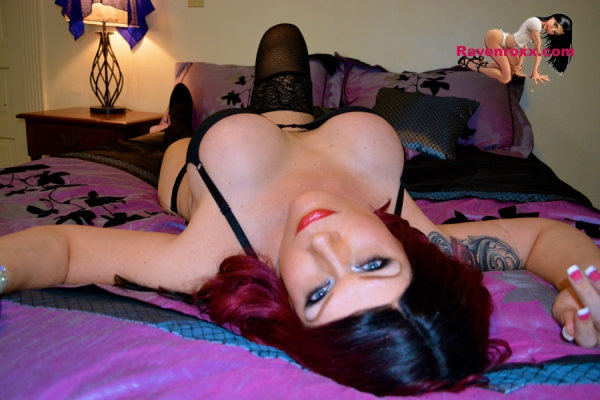 What's your favorite part of the job and your least favorite part?
Favorite:  Going to shows and cons, and meeting fans, and other people in the industry.  I'm really chatty so any chance I get to run my mouth I jump on the chance.
Least Fav:  All the prep work required before filming.  Douching, shaving, plucking, and my least of the least fav…..starving myself!
Does your family know you work in the porn industry and if so, how do they feel about it?
My siblings know I do porn.  As far as I know my mom and dad don't and I'm not going tell them.  There are just certain things you don't discuss with your mom.  Besides, she most likely knows anyway and just will never bring it up.  Not that I'm ashamed of it, but the older generation comes from a much more sexually oppressed society and I just don't think they would understand.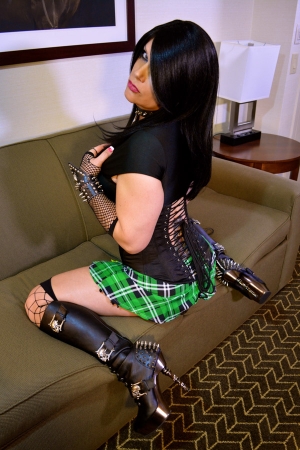 Do you foresee a point anytime soon when you'll retire from porn?
I hope not for a good while.  What I will say is that I want to end my porn career like the show Seinfeld ended; I'd rather end it on a high than try to drag it out to where people only remember the downward spiral at the end because I held on too long.
What advice would you give to aspiring models who want to get into the industry?
Grow a thick skin.  People are going to say things about you, and it doesn't matter how good you look, it's going to happen.  The quicker you learn to brush it off and do your own thing, the easier it will be.
Do you enjoy interacting with your fans on social media?
I absolutely adore my fans!  Let's be honest, without my fans I'd be nothing.  I picked up a good habit from Kimber Haven, and I spend large amounts of my free time answering messages from fans.  No one does it for me so I spend a few hours every day responding to all the messages I get on various social media outlets.  It's the least I can do for my peeps.
Can the trans porn industry be a positive influence within the trans community since there is still such a stigma attached to the industry and being a sex worker?
As with anything, positive or negative really depends on who you talk to.  I'm sure the bible thumpers claim no good can come from any porn.  I'm really not sure, you've kinda stumped me on this one because I know the way I personally feel is not necessarily the belief held by others.  I think it's great, it's a huge market, and it provides jobs to girls who may not have any other recourse.
There are some who claim that trans women are being exploited as sex workers. What are your thoughts on this?
I'm sure some are to certain degrees.  I personally don't consider myself to exploited.  I enjoy what I do.  I mean I get paid to fuck and take sexy pictures of myself.  Let me say it like this; I'm going to be fucking, everyone does, so why not let someone video it and see it online?  It's like a total win/win situation.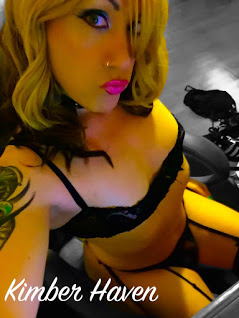 Who inspires you?
Well, I'm always giving props to Wendy Williams as an icon, so in this interview I want to give props to someone I hold in equally high regard, Kimber Haven.  I've known Kimber almost as long as I've been actively transitioning.  And while she pisses me off on almost a daily basis I wouldn't have it any other way.  She's not afraid to tell me the truth, even if I don't want to hear it.  While sometimes I hate her for it, it has made me a much better person inside and out, which would not have been possible without her.
Do you find it difficult to date being trans? Does working in the porn industry make it harder or easier?
I find it very hard.  Especially when you factor in that I'm a porn actress, cam model, exotic dancer, non-monogamous and polyamorous.  I'll be the first to admit it's hard to find anyone to accept all that.
What do you feel are the biggest issues facing the transgender community right now?
Without a doubt all these religious freedom bills, aka bathroom bills.  We all know who we really need to keep out of bathrooms to prevent sexual assaults: preachers.  We also need better healthcare coverage.  Some companies are pioneering this kind of acceptance but sadly too many are lacking.
Where would you like to see yourself in ten years?
I'm not sure I'll be in front of the camera still then, but I hope I'm still working in the industry. Or sitting on a beach somewhere sipping a margarita……beaches and margaritas are good too.
What is something people would be surprised to learn about you?
I'm actually a really good gardener.  I can make my own canned spaghetti sauce, salsa, pickled jalapeños, and like potatoes.  It's a really rewarding hobby.  Nothing beats walking out to the garden and grabbing stuff and making it from fresh produce.
What is a typical day in your life like?
Typical days are pretty boring.  I still have a day job so there I have accounted for at least 8 hours.  The rest of the day is spent answering fan mail, going to the gym, walking my old dog, or hanging out with friends.
Violence and suicide are two of the biggest problems that the trans community faces, with 41% of trans people attempting suicide. What can society do to address the issues which all too often leave trans people feeling like their only option is to end their life?
We need to stop stigmatizing trans people and shaming them for being authentic to themselves.  I hate to say it but religion plays a big part in this.  I am appalled at how many people who claim to be godly are the first in line to cast stones at others.
There is a negative perception of the adult entertainment industry and those who work in it by mainstream society. What can we as an industry do to break down those stereotypes and get people to view us in a more positive light?
People need to be less uptight and stop being so worried about what other people are doing.  There are two kinds of people in the world, the ones who watch porn and the ones who lie about not watching porn.  If everyone could just admit they watch it and not be made to feel guilty I believe porn would be just another job.
Thank you for the interview Raven, it was a pleasure!
You can follow Raven on Twitter at @TsRavenRoxx visit her cam site at TsRaven.com, or see her official website at RavenRoxx.com