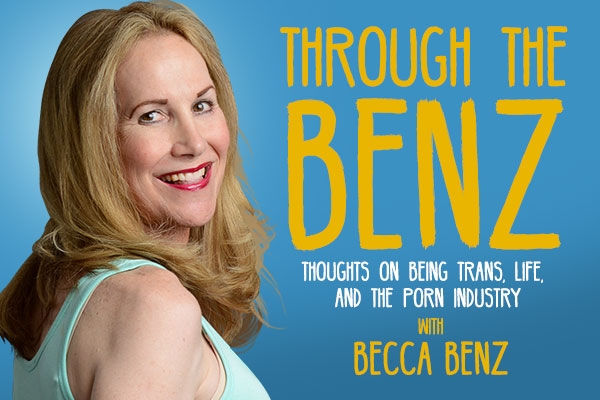 Kelli Lox is one of the biggest names in the trans porn industry, but her popularity and influence far exceeds that of just the world of porn. Kelli is known for her intelligence and her open and honest approach to life, and for her willingness to speak her mind. She is a true artist in every sense of the world, expressing her creativity in a wide variety of mediums. Kelli has broken down the stereotypes of what so many people assume a pornstar to be and has blazed a new path and become a role model to many. I had the pleasure of interviewing this amazing lady and getting a glimpse into her life and a better understanding of what drives her.
You have what many would consider to be a dream job, being a model in the porn industry. Is the job really as glamorous and interesting and much fun as people would assume?
Yes and no. It's very Wizard of Oz in that way, as in, you sometimes do and sometimes don't want to look behind the curtain. I don't know if it's better to maintain that 'it's so glamorous' thing or to humanize it with unglamorous details. But I will say, yes. Yes the life of a porn star is fucking rad. You get to travel and have sex with beautiful people and party and make money and get treated like a fucking rock star everywhere you go and interact with fans and great creative people. It is a dream job, for sure.
How did you get your start working in the porn industry?
I modeled for art classes in college and when I transitioned I wanted to get back into it. A photographer friend of mine helped me make a profile on a modeling website and I started dancing at a local trans strip club. I got some modeling work and then got an offer to do a shoot for Grooby. The scene did well and I attended what was at that time called the Tranny Awards in LA. And the rest is history I guess.
Dancing seems to be one of your passions, since you've done everything from ballet to stripping. Can you tell us what dancing means to you?
Dance is one of the purest art forms. It requires little to no equipment and anyone can do it. And the trained dancer's body is a work of art, too. I had to quit ballet when I transitioned, and I might be getting too old to dance in strip clubs, but I still have my pole in my bedroom.
Did you attend college before or after transitioning? Can you talk about what your college experience was like and what you majored in? Has your college education been useful in helping you to become successful in porn?
When I was in college, I was a boy with a secret. I was in a serious relationship with a girl and I earned my B.S. in geography. I went on to get a Master's degree and got a professional job and that's how I supported/support all my loved ones and why today I have been unemployed for nearly six months but drive a new car and live in a mansion. College is so important for a lifetime of financial stability and my dream is to help young trans girls get a college education. Sucking men's dicks as a way to make ends meet is fun but when you get older you will want stability and you'll question the choices you made in your 20's with a critical eye.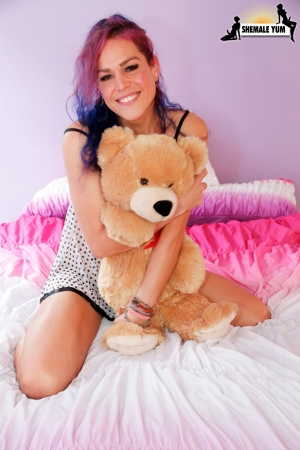 What does Grooby means to you?
Grooby is to the transgender movement what the Beatles is to the 60's. You can look at the Beatles' work and track an entire mental process of a generation. Same with Grooby. If you look at the way they've changed their terminology and marketing over the past few years, it reads like the diary of our social movement. For example, they changed the name of their awards show from The Tranny Awards to Transgender Erotica Awards. That's like leaving the Sgt. Peppers and Yellow Submarine stuff and going to White Album, you know? It coincides with a mental change in awareness of a lot of people. Like, okay that's not cool anymore for whatever reason, let's class it up and grow up a bit. I am very proud of the people at Grooby, and I am very proud of my good working relationship with Grooby. They get a lot of flak from lots of folks, but that's to be expected. Like Peter Acworth at Kink, you just become an easy target for a lot of angry people who have an axe to grind. At the center of these companies, there are very cool and well-meaning people who really just want to do the right thing and also remain profitable. I know we want to hold people accountable but if there's a way to do that without being dicks to them, that would be appreciated.
Does your family know you work in the porn industry and if so, how do they feel about it?
Yeah, everyone knows. The metaphorical cat is out of the metaphorical bag, so to speak. I don't know how everyone really feels about it because I only get what they say to my face or whatever. I know some of my relatives know and judge me and either don't want to associate with me now or will act nice to my face but still judge me. And other relatives know and think it's kind of cool – they're proud that I did something with my life that I enjoy and attained some kind of fame – the whole American dream thing. And some of my relatives don't really care either way, they just want me to be happy and healthy and look forward to seeing me again soon. I text my mom about going to the awards show and working and stuff, at the end of the day, she is proud of me and wants me to succeed.
What advice would you give to aspiring models who want to get into the industry?
I don't really want to give advice. If I had followed all the advice that was out there when I started, my career would have gone differently. I think you have to see it as art – there's no wrong or right way to do it. Make it YOU, or not, I don't know. Advice is tricky because the wise don't need it and fools don't heed it. lol
Do you foresee a point anytime soon when you'll retire from porn?
I was told once "never retire from porn." I don't really understand why but I think it's something about letting work happen or not happen organically. A lot of times people get into a mood and want to make some kind of fatalistic statement and then, like, no one really cares, and maybe instead of stewing and brewing statements like that, you could be doing something more productive. And anyways, I know I'm a porn star but secretly I never have seen myself as a porn star – I'm an artist and an internet personality. If you look at my behavior on twitter, it's very different than most porn stars. I've been told that I'm doing it wrong by a lot of people, but I have more followers than them so I just nod and say thanks and keep doing what I'm doing.
Can you elaborate on what you mean by your behavior on social media being different than other porn stars?
Well, most porn stars are careful not to offend any fans or potential fans, and many don't feel comfortable revealing personal information such as hobbies and interests. They feel very strongly that their Twitter is a facade, just business. Their approach is to never be political, never say anything that could jeopardize future work, never say anything controversial, etc. So if you see a porn girl talking about how she hates Trump (Janice Griffith) or a porn girl bitching about how she's getting blacklisted by some studios just because she's done scenes with TS girls (Adriana Chechik), that takes balls. And I'm like that too. Most girls, even trans girls, don't have the balls to be girls who speak their minds. or they just made a decision to keep their Twitter purely a business facade, which is okay too.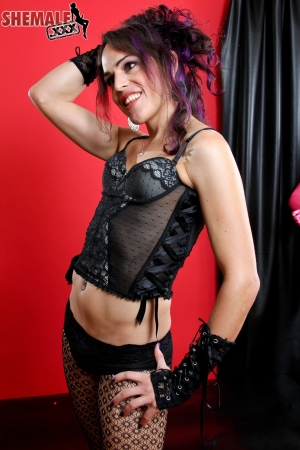 Not to make generalizations, but in many ways you seem to be outside of the norm in what people generally assume a pornstar would be like with all your artistic and intellectual pursuits. You express your creativity in so many ways such as in front and behind the camera, in your drawing and painting, writing, composing and playing music, and dancing. You're also well-educated and speak several different languages, and are obviously being very intelligent and independent. Would it be fair to call you a renaissance woman?
Yes, people have called me a renaissance woman. Ii am 100% a renaissance woman. I'm not like other girls, and I'm certainly not like other girls who say they're not like other girls. I have paid my dues and I don't take shit from anyone. I'm smart and talented. Before I start listing too many good traits I should remind myself that I'm also modest lol. Really, I'm just another woman who depends on a support network of women.
What was your childhood like and when did you realize you were transgender?
I was born and raised in Boise, Idaho and had what I would call a pretty normal childhood as a boy. I always knew I was a girl, but I also very quickly realized that I had to hide it. I saw a gay boy in kindergarten getting teased and I didn't want to get teased like that.
I lived in Pocatello and Idaho Falls for 13 years, so I know what a beautiful area that is, and also how conservative, although Boise is one of the more progressive cities in Idaho.
Yeah Boise is mostly alright now, especially the north end where I grew up. but it wasn't like that when I was a kid. And still, it's one corner of one town in a big state that's run by conservatives.
Was it a process for you to come to terms with the fact that you were trans?
Well, my PR lady says not to talk about drugs in interviews, so I'll just say that I went on a deep spiritual journey sometime in 2009 or 2010. I went really deep inside myself, and realized that it was suddenly more painful to go on pretending that I was a boy than it was to face my fears and decide to transition. So, all by myself, in the dark, sitting naked on the floor with a blanket, a candle and a jug of water, I asked myself "am I really going to do this?" And there in the silence there was this really deep little 'click' as I said "yes." And that was that. The decision had been made and rest was a matter of execution.
Looking back, was transitioning easier or harder than you expected?
I didn't really know what to expect. I knew I would have a difficult time with family members and friends, and I was right about that. Obtaining hormones and getting rid of boy clothes was work, but learning how to do makeup and put together stylish outfits wasn't that hard at all. It felt like home to me. Yes, there were a lot of heavy social tribulations but there's no way to tell how much of that was just my life and how much was a direct result of transitioning.
What advice would you give to someone just beginning their transition?
Young trans girls should just know that they're gonna need support groups, and they're gonna lose some social groups, so they've got to find new ones. I'd tell them to make allies among genetic females if they haven't already, because they're gonna need them. They might need to move to a city where they can function normally among the population. The first years can be really awkward, so realize that it won't always be that way, at least for most trans girls. After those awkward few years right out of the gate you start to settle into a new personality and pacing that is really you and feels more comfortable. You gotta stick with it for a minute and after a few years you're like "oh, okay, okay."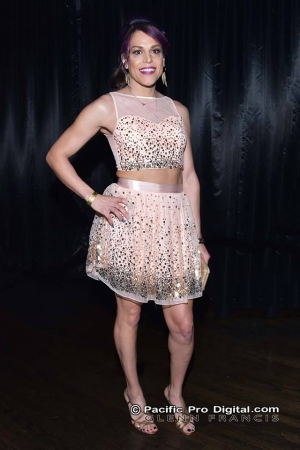 Is your family supportive and accepting of you?
I think it's all relative. I mean, when it came to being supportive, my parents were better than some parents, not as good as other parents. There are a lot of valid reasons that I could be really resentful towards them. There are ways I really needed them and I guess I was asking too much of them, or it was just beyond their ability to deliver. I don't know. But they stuck with me and my relationship with both of my parents is really good; better now than it has ever been. Not everyone can say that, whether they're transgender or not. That took a lot of work and forgiveness on all sides. I'm just at that age now where you're like "holy shit I hope I didn't cause too much damage when I was being a mega brat!" and you really start to value being on good terms with your family. My brother is also very close to me. My transition was a challenge for him because he always saw himself as open-minded and progressive and found himself painted as kind of a jerk in some ways during those years. We worked through it all, and now we're super tight in a new way. In fact, he's getting married in Seattle later this year and he asked me to be his best lady!!  I'm so excited!!
Do you enjoy interacting with your fans on social media?
Interacting with fans on Twitter is, like, my favorite thing in the world. And not only that, but interacting with other artists of all kinds all around the world, and giving voice to artists I support, and constantly showing my support of other performers – these things are the things that make me feel good about what I do. And there are lots of younger trans girls who follow me on twitter. I actually am a huge influence for a lot of them. I appreciate that so much and I also recognize that I have some kind of responsibility towards them. I am doing the best I can to live up to that responsibility. I think that's how I sleep well at night, knowing that I am making a difference and authentically doing the best I can, not just for me, but for all trans people, and all artists, and all women, and all sex workers.
Speaking of sex workers, there are some who claim that trans women are being exploited as sex workers. What are your thoughts on this?
Meh, all people are exploited. Yeah I have it harder than many but mostly I'm super privileged. We need to complain when it's time to complain about stuff, and call things out when it's time to call things out, but we also need to sit back sometimes and just shut up and thank our lucky stars. I don't know, it gets tricky. It takes a lot of presence and intelligence and creativity to fight social injustice in a way that is actually effective in fomenting real change. Sometimes people introduce an issue to me like "wanna get worked up about this? what's your opinion?" and I'm like "I'll pass, thanks." Opinions are like chopped onions, I don't want anyone's in my face and I'll cry if I can't get away fast lol.
Can the trans porn industry be a positive influence within the trans community since there is still such a stigma attached to the industry and being a sex worker?
The porn world isn't just one thing, it's a lot of different studios and distributors and fan bases and consumers. I think if you look at it a certain way, you'll find some evidence that you're looking at it the correct way and find what you though you would. Like, if you approach it with a "porn is bad" mentality, you will find evidence to concretely back that up. And if you start with "porn is good" you'll find indisputable evidence that it's true. So, I don't know, a lot of it is like clay – if you want something good to come out of it, make something good out of it.
What is a typical day in your life like?
Hmmm I don't know there are times I party hard for four days straight and there are times I sleep all day and do laundry.  Sometimes I exercise religiously every day and sometimes I have a friend over and we order takeout from two restaurants at the same time and eat them in bed, so I dunno. Some days I'm really busy with work, running errands etc.  and sometimes I just clean my room and play my keyboard and sing or draw. Sometimes I am hanging out with friends but a lot of time I'm alone. I like being alone, it helps me think.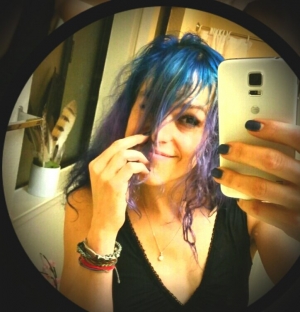 Do you find it difficult to date being trans? Do you think working in the porn industry make it harder or easier?
Oy, this is tricky because it's hard to tell what people's real motives are. It's like, when someone acts interested in me, I ask the magic eight ball "what are their true motives here?" and the magic eight balls says "… time will tell." So sometimes you get burned and sometimes there's a fun experience to be had with someone. In the end, you have to make sure you got your rocks off, at least, or had fun or got financial help or whatever, so that you don't feel like you were taken advantage of, but also still think of the other person respectfully even if things didn't end well. Relationships are like hamburgers – the most delicious ones are often messy, and though you might swear them off for a while, one day you'll be ready to bury your face into another one. Also, it's a meal – it's a one-time thing, it ain't forever. For better or worse, no burger lasts forever. hhaha
Looking onto your crystal ball, where would you like to see yourself in ten years?
More famous. Author of a book. In a major movie. Writing for a TV show. Doing amazing shit with amazing people. Making art. Making a difference. More followers. And, I dunno, in love and living with a beautiful girl who dances or draws comics or something. Drinking iced tea on a sunny day or snuggled watching cartoons on a rainy day. I see my future self as fit and healthy, with something to smile about.
What sort of book would you like to write?
I book about my life. I have seen some shit and I have been through some shit. Even people who have been through some shit tell me "holy hell girl you've been through some shit" lol  I have a very important story to tell.
What is something people would be surprised to learn about you?
Hahaha I don't think I can surprise anyone anymore. I was talking about a dream I had where I jumped out of an airplane with no parachute on, and a close friend of mine had missed the part where I had said it was a dream, and walked in when I was in mid-story, and he says "oh my god Kelli, you are the only person who can do shit like this and live to tell the tale! go on." and sat to listen to the rest of my story. Then we explained that I was talking about something that happened in a dream and we all laughed so hard and he said "Kelli, that's how amazing you are! You could mention things you've done and I'd just be like 'okay, and then what happened?' even though it's something completely unreal that if anyone else said I'd immediately be all like 'bullshit!'" hahaha
Thank you for taking the time to do the interview Kelli, it was a lot of fun!
Be sure to check out more about Kelli on:
Her official blog at kellilox.com/
On Facebook at facebook.com/kelli.lox
On Twitter at  twitter.com/KelliLox