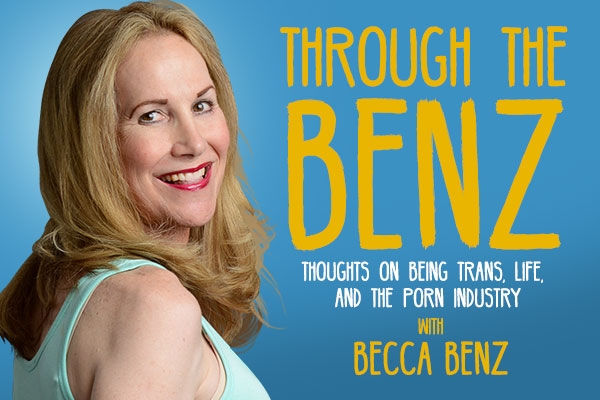 Holly Parker is one of the biggest names in trans porn, and for those of us fortunate to be able to know her as a friend, she is one of the most caring people you'll ever meet. I got the opportunity to hang out with Holly and get to know her at last year's TEA and discover what a special person she is, so being able to do this interview means a lot to me. Holly has achieved a great deal behind the camera, but it's her voice as an advocate for the porn industry and the trans community where she really shines. And she has become a leading voice for trans health care, which we will cover in Part 2 of this interview. So without further ado, I give you the one and only Holly Parker!
What was your childhood like growing up?
My childhood growing up was mainly influenced by my immediate family. I was born in a sleepy little fisherman's town in the early 90s. My family was very religious and until my grandparents died in 2003, I attended a prestigious private school. In 2004, I began going to public school. I was immediately introduced to sex, drugs, and rock and roll. I kept it a secret from my family for some time, but then it got out of hand. My addiction to alcohol and prescription drugs was causing me to be reckless. By mid-summer 2006 it was either a long-term inpatient rehab or alternative school and outpatient.
The change of pace and size of my alternative school made it possible for me, for the first time, to acquire straight A's. I drank every weekend I attended that school and passed every urine analysis. One day I decided to be honest about my substance abuse and my counselor told me that I needed long-term rehab or I was to be kicked out of school. I was 18 and dropped out of that school and went back to my old high school. I decided to drop out and got my GED in 2009 as Holly.
I grew up in a typical single-parent, American family with most relatives alive until I was 14. I even got along well with my dad separately from my mother. They were never married, I am a bastard child. I was raised privileged and loved, and was protected by my family and well taken care of growing up. The one thing that made my childhood difficult and stemmed any trouble or misunderstanding, was the fact I was transgender. I was never molested or abused, was always given the chance to make mistakes and learn from them and if I did not, whatever punishment WAS necessary, in my opinion now. Looking back, I never wanted or needed anything growing up, except acceptance and understanding of my gender dysphoria, although, I did not know how to do that or where to begin until I was 14. I had developed a full understanding of myself and was able to begin explaining and expressing myself in ways that may bring better understanding to other trans* people someday. This is regardless of how different my experience may be from theirs.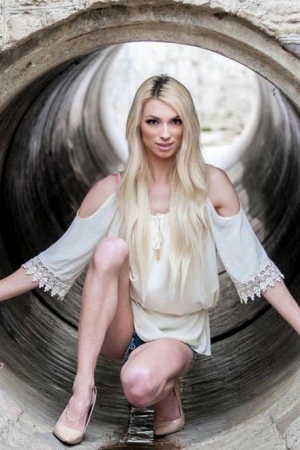 Have you always known you were trans, and was it a process to come to terms with that?
I have always known I was trans. Recently in San Francisco I was with my mother for my gender reassignment surgery. We were being interviewed by BBC for a documentary on gender, and my mom and I discussed many things including random memories from my childhood. I'm talking about when I realized I was trans, which I unfortunately did not have that word for back then because of lack of education on gender. I thought I was a normal girl and the memories I have just so happen to be from meeting around two years old that I begin remembering. I didn't even think I would have consciousness at that point ha ha that is enough for me, personally, so now I have been female all of my life, or a more general term, trans.
The only process I have gone through is convincing people I am "female" and I had a real disorder, mentally and physically debilitating. Passing cars, passing trains, overpasses, building windows, a gun. Many different choices for taking one's life at any given time at RANDOM. I now look at those things and think of them as they are in the moment and not anything else harmful. I would like to avoid harm at all costs because I love life now and I see a real future ahead of me.
If I can bring more understanding and involve as much of the world in my transition as I can, I have a chance to bring some acceptance to all trans people across the world. As a young child, I just did not want to see anyone suffer and dreamed to be like Princess Diana and travel to other countries and volunteer with the sick and less fortunate. Although I realize that if you are going to make a difference in this world, it starts by making a difference on your home soil first or wherever you call home.
Is your family supporting and accepting of you?
My family may not have understood me all the way through, but they have never let that factor into their decision on whether they will except me in their life or not. Knowing it's none of their business to understand me, for I am not hurting them or anyone mentally or physically to be happy myself. They just love me and are happy to see me happy when they watched me be miserable for so many years.
Now, even though they may not always understand me, they have always supported me in my journey be happy and grow as a human on this planet. I deserve to feel just as human as the next person. They have witnessed every decision I have made, and it has only bettered me as a person and helped my transition. My family knew me before I came out as trans and continue to know me and want to know me now. They remember how miserable and sad I was and for years no one knew what to do. Now that I am me and only become more of me each day, they see how happy I am and have been since I've transitioned. They have not only seen how much good I have done for myself, but the good I have done and kindness I have shown to others in order for them to feel acceptance when no one else may have been showing them acceptance at the time.
How did you get started working in the porn industry?
I googled "trans porn applications" and found a step-by-step application process and originally shot my first solo and hardcore with Radius Dark Photography. I began working in the porn industry after I moved back from Arizona, broke as fuck, after attempting to start over with my fiance at the time in Phoenix, Arizona. Sadly, he passed August 20, 2015. Little did I know that first shoot I desperately applied for online would be the first of many. It would be the beginning of my career as a "Porn Star." I thought I would shoot one and fade out quickly. Sometimes I still wish I did.
Can you tell us a few of the people who have influenced you the most throughout your career?
There are so many influences in my career I don't know who to begin with! These people did not influence me to get started in porn, but they influenced me to stay. I hate mentioning names because my philosophy on that as, "Every name you mention, you forget a name to mention." My Twitter shows many retweets, posing photos, and advertisements for past work with many people who have made a large impact on my life as a Trans Porn Star.
Can you tell us what Grooby means to you?
Can I tell you what Grooby means to me? Friendships and paychecks!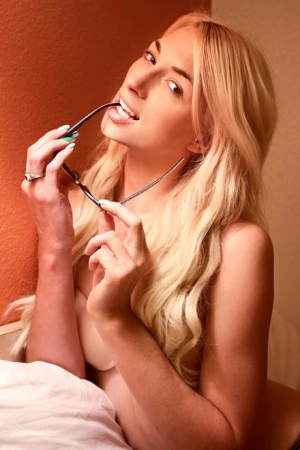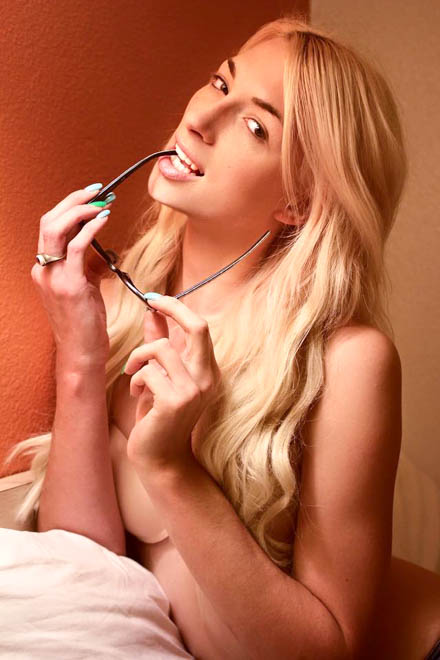 Does your family know you work in the porn industry and if so, how do they feel about it?
My family has always known I've worked in porn and they see my success and happiness today. I am happier and a lot less broke than working for minimum-wage 9-to-5 job. I want to build a career. I do not want a job. I learned a job stands for "Just Over Broke." I was over working paycheck to paycheck many moons ago.
There are some who claim that trans women are being exploited as sex workers. What are your thoughts on this?
Well, all women in porn are exploited as sex workers, we have sex for money. Is it anyone's business, other than the government at this point, to know how we make our money, pay our bills, feed our children and stay alive like the next privileged American? Most of us (Trans*) Women exploit ourselves as sex workers all day, every day. It is our livelihood. Porn is the ultimate advertising for sex work. There is nothing wrong with that. If it is done right, everyone is safe and making money.
Now that you've had reassignment surgery will you be retiring from porn?
Retiring from porn is a statement. For some, porn is a career. For others, like myself, it was an artistic outlet to temporarily support myself.  I did not need tax money from someone else to buy my groceries or federal funding support to help me with my transportation. I was able to work legally and pay my taxes, comfortably. Porn has, unfortunately to some, opened up many other doors for me to be successful. At this point, it depends on how I feel after I am 100% healed from my Gender Reassignment Surgery.
You have what many would consider to be a dream job, being a model in the porn industry. Is the job really as glamorous and interesting and much fun as people would assume?
It is considered a dream job, being a model in the porn industry. You question if it is glamorous, is it as interesting is you think? This is a hard question to organize an answer to. Working is always interesting. In the beginning of your career, you think you will only be asked to do what you are comfortable with personally. That is not always the case. You are challenged, mostly in your own thoughts, to questions you are asked about performing acts you may have never considered comfortable to try. I have not been in a porn setting where I did not try and learn something interesting about myself that was new. Then again, I am a girl who says go forth and face whatever you are scared of and just get it out of the fucking way! There is so much more opportunity for you to bloom without restriction.
Porn is glamorous when you attend award shows, like the Adult Video News (AVN) Awards and the Transgender Erotica Awards (TEA) Show. You get to dress up and attend red carpet events with costars, producers, photographers, other models, directors, etc. Really, any title you can think of in film attends those awards to celebrate the individual success brought together by so many in the adult film industry to create so many productions teamwork could only accomplish.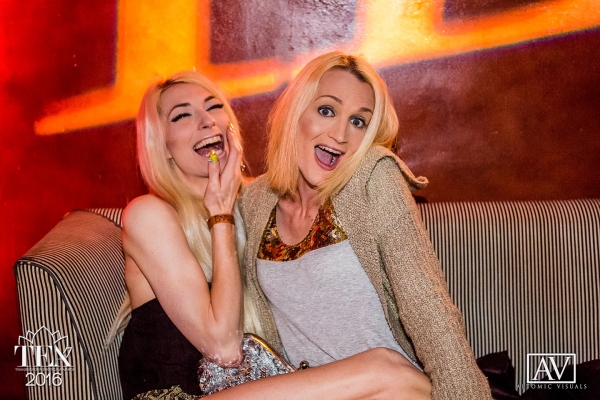 What's your favorite part of the job and your least favorite part?
My favorite and least enjoyable parts I endure in porn? Well, my favorite part is getting ready for the project. I become a princess preparing for her coronation day, figuratively speaking, when my make-up begins. Each fresh curl is like a brand-new, warm and beautiful day. I become presentable and I feel ready to be seen.
I do not like traveling to the shoot, since I'm always dealing with some kind of unnecessary delay, although I don't stress if it is in the same state or city. A missed flight because of uncontrollable weather conditions, traffic or some unexpected delay. Also, most adult production companies make you pay for your travel and do not reimburse you. Like a 2 way Spirit Airlines ticket is going to break the bank! lol
What advice would you give to aspiring models who want to get into the industry?
My best advice to aspiring models is never let yourself feel like lesser of a human due to your personal or someone else's personal negative opinion. Constructive criticism him should always be welcome to. Only to humble, better yourself and build self-confidence. You were born to be who you want to be. Let it show, let it shine. Your individuality will be what makes you stand out from the rest.
As you know, violence and suicide are two of the biggest problems that the trans community faces, with 41% of trans people attempting suicide. There are organizations like Trans Lifeline which provides vital resources for trans people in times of crisis. What can we as a community, and more importantly, what can society do to address the issues which all too often leave trans people feeling like their only option is to end their life?
It does not start as a community or society together that makes a difference. Making a difference starts with yourself individually. Suicide comes from so many places inside one's self. There is no knowledge of what giving up does for you once you cross over. Know the pain of your own life's loss you cannot understand, that is something you will cause someone else. Surviving and helping others find a reason to survive inspires hope. Do not stop inspiring hope. Do not stop inspiring a future for Love. Your own story in survival of doubt will save someone else. Save lives on behalf of your own story about simply making a conscious decision to live now and in the future when you consider ending your life.
Always believe in finding a light at the end of your tunnel, figuratively speaking. If you do not see the light, never lose hope, or give up and let yourself die or kill yourself to put yourself out of misery. You claw and scratch kick and chew if you have to. If you are going to go out, always go out with a fight.
What do you feel are the biggest issues facing the transgender community right now?
An individual need to understand a human's personal life in order to confirm their existence as deserving the same basic rights and respect as your own only if you relate to them in some way that, subconsciously, you do not feel physically threatened or mentally inconvenienced. Whatever the word is for that need of equal or greater value as a human with no lesser accepted based on specific personal identification and beliefs. That is one of the biggest issues facing the transgender community today.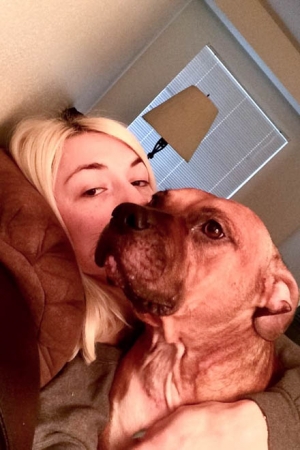 Who inspires you?
My inspiration in general, for life? I have parented and loved a life and I thank my lucky stars I am responsible for him until death do us part. My American Staffordshire terrier, Jengo Fett (Yes, from Star Wars). Jengo was gifted into my life in October 2012. An interesting fact about Jengo is that he was born the same day I was. I will be turning 26 while he turns 6 this Summer.
Jengo Fett. Do I want to be responsible for the death of my dog with an "Oh Well!" Attitude after he dies? Nope. I will always choose to be responsible for the death of nothing, especially a life. He inspires me to live. He inspires me to be responsible for my own life, I come home each night happy and don't feel alone. I cannot accept him going to the pound because I decided to give up responsibility for a life I allowed into mine knowing originally the only way we would part is if one of us died. Jengo is the reason I wake up in the morning and why I strive for success. I do not want him to be homeless!
As a trans woman do you find it difficult to date, along with being a pornstar?
Dating is difficult not only for trans women, but every human that is able to date. Some make it feel easy until it is not. Do not stop and stay on my own when it is not easy, settling in sadness. Move forward. Do not ever give up on even the smallest chance to fall in love!
I have dated so many. Enough that more than a couple are no longer alive. I evaluate myself on dating in the past. I ask myself, "What have I learned? Not a fucking thing! I am still so fucking confused!"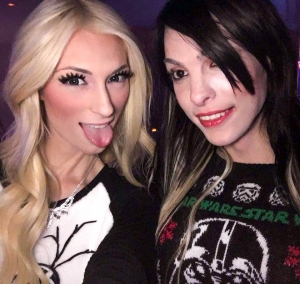 When you're not working, what activities do you enjoy in your free time?
Currently, home is in Las Vegas. You can only imagine how much there is to do here. In my free time, it is always the same things, just in a different order on a different day. I walk my dog, I love music and I especially enjoy traveling. I also enjoy keeping up on my laundry and every once in a while, I will receive a great recommendation for a TV series to binge watch.
What is something people would be surprised to learn about you?
Something people would be surprised to learn about me. I was arrested two times before I turned 18.
Do you enjoy interacting with your fans on social media?
When time allows or something hilarious pops up from one, I will interact with fans on social media. I really enjoy unique messages or fan art. I also appreciate the personal messages and it sucks I cannot respond to all of them. I apologize for any recent weird messages or posts on one of my social media accounts. It was maliciously hacked several times, but it has been resolved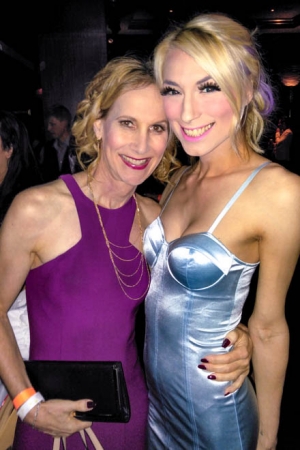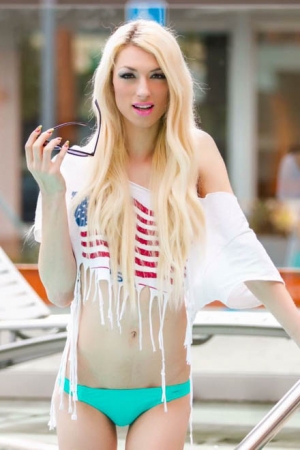 Where do you see yourself in ten years?
I see myself well established in my choice of career and close to a comfortable retirement. Possibly married, definitely a few kids. Two or more dogs and simple family filled holidays. I may have put on a few pounds, ideally in the right places! All this in the a well-deserved home.
There continues to be a negative perception of the adult entertainment industry and those who work in it by mainstream society. What can we as an industry do to break down those stereotypes and get people to view us in a more positive light?
Avoid complaining about negativity. Be yourself and make an attempt to discuss the professional side of your experience if given the chance to share. Give some examples on how your career in the adult industry has benefited you. You can begin to bring a better respect to adult entertainment, maybe not by discussing the work you are performing, but the benefits the work has allowed you to prosper from.
The only way to normalize adult work is to leave out the discussion about the sex aspect. Talk about the business aspect and how it allows you to enjoy life when you're not working. The work for some may not be agreed with, but the advantages business-wise can create a better platform to show people there is positive profit from adult entertainment. Sex is one of the few things in this world that will always and forever continue to sell in all shapes and forms.
You can follow Holly in Twitter at @TheHollyParker
See more of Holly on her website at hollyparker.xxx/home