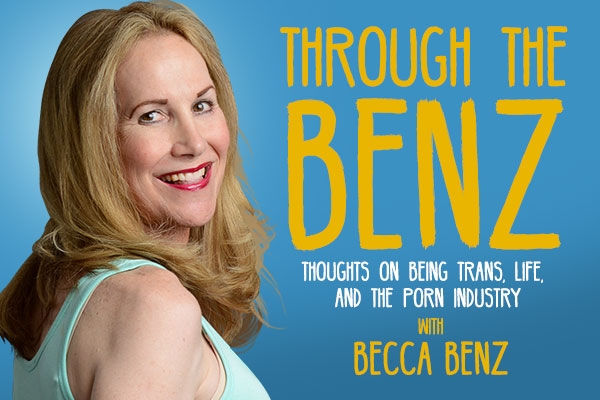 The Transgender Erotica Awards weekend is always such a fun time, and my week in Los Angeles had already been pretty eventful before the TEA events had even begun!
Thursday night at Club Cobra signals the unofficial start of the TEA festivities and is always a fun time, and this year was no different. I got there early and was sitting in a booth chatting with friends when my good friend David gave me two bags of delicious Ghirardelli Dark Chocolate Sea Salt Caramel chocolates! David is so sweet and thoughtful; last year he brought me flowers, and this year chocolates! It's moments like this, and seeing good friends again, that makes TEA so meaningful to me.
And then a bit later in walks none other than the beautiful Staci Miguire, looking decidedly more blonde than the last time I saw her! She and I always have fun hanging out and dancing and she brings out my wild side! And it's nice to be with someone taller than I am for a change! And it so happened that I wore a leopard print dress and Staci wore a zebra print dress, so we had fun with the animal print theme, and there were lots of jokes about predator and prey! We even considered swapping dresses since she's more predator and I'm more prey, but thankfully we never actually got around to doing it lol
The club closed and security had their hands full ushering us all out of the club and off the property, and then trying to get everyone to go home. There were large groups of people mingling on the street and suddenly a fight broke out and it was like watching moths being drawn to light; everyone ran to the fight and cell phone flashes were going off like mad. We soon heard the sound of police sirens, and then a police helicopter appeared overhead with its light scanning the scene, followed by a fire truck and police cars screaming down the road. It was a crazy ending to a wild night!
Friday I had the pleasure of having breakfast with my dear friend Fran, who is someone I've gotten to know a lot more this past year and who has become near and dear to my heart. We'd been counting down the down the weeks and days as TEA approached, looking forward to breakfast and being able to talk and enjoy a break from the dreary Pacific Northwest weather. And it was definitely worth the wait, getting to talk face to face and just hang out and enjoy being together. We had the most wonderful conversations and I wouldn't let her go back to work because I so enjoyed having her all to myself! And she also gives the absolute best hugs! It was such a wonderful afternoon and one of the things I will remember most from this year's TEA.
Friday night it was the TEA party, which was moved up this year instead of being the night after the awards show as in previous years. The party was at Bardot and fabulous as always, and it was so much fun seeing everyone, and of course seeing what everyone was wearing, and in some cases, not wearing lol The folks at Grooby know how to throw a party, and this was one of their best!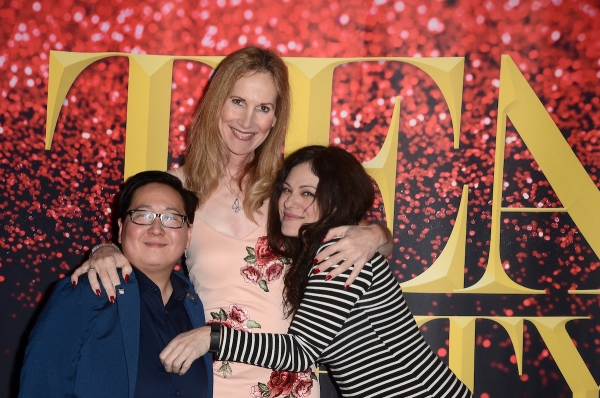 My favorite moment from the party was getting Fran and Kristel together for a picture of the three of us. Last year we'd forgotten to get a picture, so Fran and I had been reminding each other not to forget, and I was on a mission to make it happen! And we had such fun doing this picture, and it could not have turned out any more beautifully. These two ladies are good friends who mean the world to me, so I was pleased we got such a wonderful picture together. And as you can see, Fran was kind of getting all touchy feely back there, but she can cop a feel of my ass any time she wants 🙂
In previous years I remember seeing the food vendors outside the Avalon after it closed and how delicious the hot dogs smelled, but I never got one because I was worried about slopping food onto my dress, but this year I was hungry and it smelled so good that I broke down and bought one, and it had to be one of the best hot dogs I've ever had. And I managed to eat it without getting any on my dress!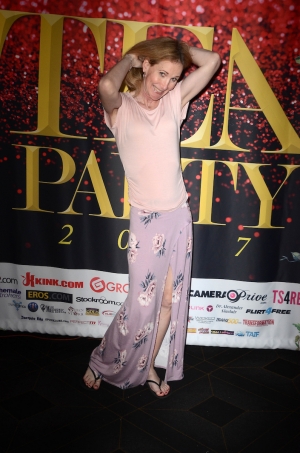 After a late night of partying we all dragged ourselves out of bed Saturday afternoon for TEA Con, which this year was held at the Avalon, site of the awards show, and it's such a great venue; much roomier and you couldn't ask for more beautiful setting.
I spent the entire afternoon wandering around talking with everyone and never did settle down at a table; my friend Hanna from Transformation Magazine let me put my stuff at her table and it was nice to just sit with her and talk when I needed a break from wandering.
I went for comfort this year, wearing a casual maxi skirt and comfortable top, and flip-flops to give my tired feet a rest! I did have a pair of heels in my bag in case I felt too under-dressed, but they never did make it out of the bag lol
One of the funnest moments from TEA Con was getting the photographers together to pose for a picture for me, which was not unlike trying to herd cats! They have all become good friends over the three years I've been attending TEA, and I am so appreciative of the awesome work they do and all the time and effort they put into capturing all the special moments during the TEA events. And I always have so much fun talking and joking with them, and they are always so gracious when I ask them for a picture with someone, which I tend to do more than I probably should!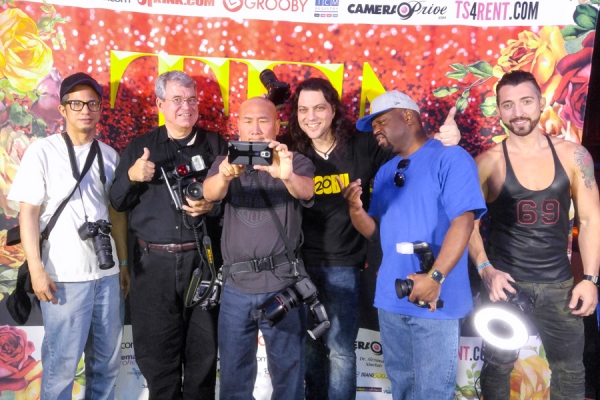 I had decided I wasn't going to attend the Saturday night event at Cheetah's because the previous year had been such a fiasco; instead I had planned to go to either Hamburger Mary's in Long Beach or Club Shine, but for some reason I was really tired decided to just hang out in my hotel room and order room service and watch the Food Channel. I felt guilty spending a Saturday night in Los Angeles in my hotel room, but I just needed a break and some time to rest and recharge. I don't have access to tv or the Food Channel where I live, so it was kind of nice to just relax and watch Chopped, and take a nice long hot shower.
Sunday was the TEA awards, and I got my hair and makeup done that afternoon, which is always a fun thing to splurge on. I went to the same salon in Burbank that I went to last year but had a different lady do my hair, and I really enjoyed talking with her. I guess I'm getting chatty in my old age! And it turned out I got to see the lady who did my hair last year, which was nice!
It's always fun getting all dressed to the nines and getting to wear a gown, and I really liked my gown this year; simple but elegant. I initially hadn't planned to wear a gown this year because I felt I'd never be able to do better than last year's gown, but I couldn't resist. I mean, how often do you get the chance to wear a gown? So I took my time getting ready and then took Lyft to the Avalon. It's always such a cool moment to arrive and walk in, knowing it's finally here and that it's going to be such an amazing night, and seeing everyone there! One of those magic moments that never seems to get old. This year I had the pleasure of walking the red carpet with my friend Eddie Wood, and we had a lot of fun; in fact I may have gotten a bit too carried away with the fun part, but I think Eddie had a good time!
I mingled and talked and hugged and posed for pictures and was having such a wonderful time and felt so fortunate to once again be part of such an awesome event. When I looking through the program I was so excited to see that Al Tom was getting the Best Industry Professional Award!! I got up to go find him so I could give him a great big hug! Al is such a great photographer and a good friend to so many of us, and if anyone is deserving of this award it's him.
The show was going to be starting soon and I was sitting at our table when I saw Laura Espinoza across the room, so I ran over to say hi to her, and we talked for a while. When I went back to the table I noticed my purse was gone. I asked the people at the table if they'd seen it and asked security if it had been turned in, but no one had seen it. I didn't have time to worry about it because the award Jamie Jameson and I were presenting was the third award, so we had to go backstage before the show started. It was neat to present an award, and I was happy I got to do it with Jamie because I knew her and knew I could get by with not having to talk much. We were announced, which was pretty cool and then we walked out onto the stage, and I managed to do so without tripping, so I was happy and relieved! Jamie did the talking and I just stood there and smiled and clapped and enjoyed the moment. I kind of felt like Vanna White from Wheel of Fortune! After the winner was announced we moved off to the side and then exited after the winners.
I made it back to the table and still no sign of my purse, and that's when I really started getting worried. And then when I realized I would not be able to fly home if I didn't have my driver's license, which was in my purse, I really started stressing out. And without my credit card or identification I wouldn't have access to any money, and I stressed even more. I asked a friend who also lived in Portland and who had driven to Los Angeles if I could possibly get a ride back with her, and she graciously said yes, so at least I didn't have to worry about being stranded here. And thankfully I hadn't left my phone in my purse so at least I had that.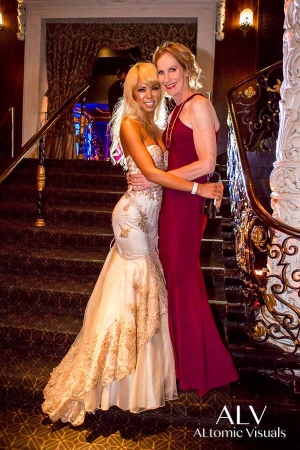 When the nominees for Best Internet Personality were announced it was such a cool moment to hear my name and see my picture, and to be included among such a distinguished group of nominees. I had a feeling I wasn't going to win this year because I just felt like there were people more deserving than me. It was still a little disappointing not to win, but Miran is a friend and someone I have a great deal of respect for, and I was happy she won. And I have to say she looked stunning in the gorgeous gown she wore, as she always does.
I stayed until the intermission and then checked again with security, and when my purse was still missing I decided to head back to the hotel so I could call my bank and report my card missing, so I got a Lyft and went back to the hotel, where I had to get another key card so I could get in my room. I changed out of my gown and got cleaned up and then called the bank to report my card missing and arranged for a new card to be sent which would be waiting for me when I got back to Portland. Once that was taken care of I took a shower and tried to calm down. I would be leaving early in the morning to go home with my friend, and I still had to get packed, so there wasn't much point to going to sleep, even if I could have slept, which was doubtful.
After the awards show ended a friend called me and left a message saying my purse had been found and it was in the security office, so I got dressed and drove back to the Avalon, hoping it wasn't too late to get my purse before everyone left. I got there just as they were closing up and it took a while to find the right person to unlock the door, but when they opened the security office there was my purse on the counter, and my driver's license and credit card were still in it. I was so so relieved.
When I had walked in I smelled the hot dogs from the street vender and as I was leaving I realized how hungry I was so I was looking forward to grabbing a couple of hot dogs to take home, but of course they were gone by the time I came out. I got home and checked online to see what was still open, but everything was closed or was not delivering, so I finally ended up going through the drive-through at McDonalds and getting two Egg McMuffins, which seemed an appropriate ending to what had been a long, long night. I got to bed just as the sun was coming up, but thankfully my hotel room had blackout curtains so I was able to get some sleep. I was exhausted Monday and didn't do much beyond getting packed and having one more meal at In N Out. I had an early flight Tuesday morning so I went to bed early. The trip home was uneventful, and I was just thankful to be on the plane. It was good to get home, except for the weather. I had left warm, sunny California and returned to cold, rainy Portland, which was depressing. I got home and unpacked, and as much as I enjoyed my time in Los Angeles it was good to sleep in my own bed again.
My 2017 TEA was filled with lots of wonderful memories, even though it ended on a sour note with my purse having disappeared, but such is life. Last year was magical in every possible way and I will forever have those memories, and this year was special in its own ways. It all worked out in the end, as it invariably does.
It wasn't until last week that I even looked at any of the pictures from this year's TEA events, and when I did I was struck by how tired I looked. I was missing the energy and sparkle from previous years, and that was sort of a wakeup call that something was not right with me.
As for TEA 2018, I'm not sure at this point. I have a lot of personal things to sort out and I'm not sure what the future holds for me. I have three years of special memories and so many wonderful friends, and those will stay with me forever, no matter where my life takes me.