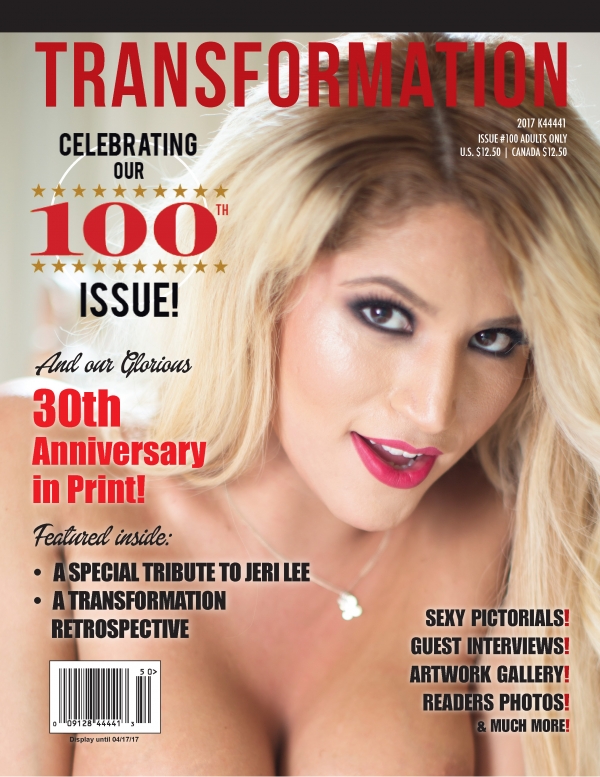 Reno, NV – America's #1 transgender magazine, Transformation, announced their historic 100th issue is now available for purchase at Centurianonline.com. The expanded 132-page special issue honors the past, present, and future of the groundbreaking title, which has been in print for 30 years thanks to visionary founding editor Jeri Lee, who passed away in 2016.
"It is a dream come true to mark such an incredible milestone in our publishing history and continue our mission to demystify gender identity and gender expression with a unique title like Transformation," said Editor-In-Chief Hanna Rodgers. "These things were rarely spoken of back when Jeri published his first issue three decades ago, but now drag has gone mainstream, transgender people are serving in public office, and the gender binary is being challenged by celebrities, which shows how the modern world is finally awakening to the community we have been serving all this time."
Issue #100 includes a stunning cover and bondage pictorial of Raquel Star by Lord Morpheous, a special tribute to Jeri Lee, interviews with Natalie Mars and Krissy4U, an exclusive chat with Veronica Vera founder of Miss Vera's School for Boys Who Want to be Girls, Luscious in Lingerie photos by Altomic Visuals, beauty tips from Isabella Sorrenti, and incredible art & illustrations from the vault of Transformation. All of this is in addition to popular regular columns and features. To purchase your collectible copy before they sell out, visit Centurianonline.com.
Transformation Magazine embraces everyone on the gender spectrum to show the world that it is important to be true to yourself and express your individuality, from TG/TS to Drag to Queer to Fluid. Their aim is to encourage these efforts by demystifying the variety of "gender identities" with enlightening and entertaining content. Visit their official site at CenturianOnline.com to purchase an issue. You can also follow them on Twitter at @transpubinc.