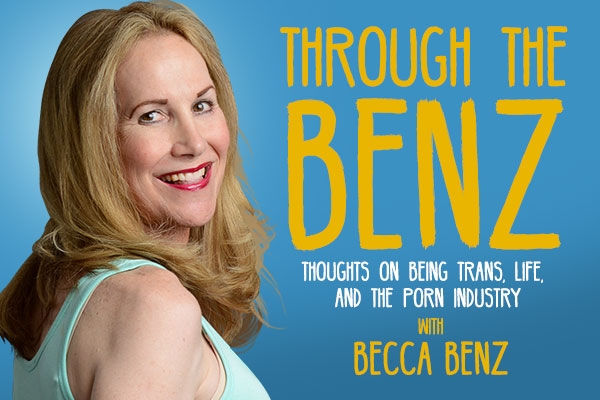 Lianna Lawson is a new face in the trans porn scene who has made a big impact and become a fan favorite. Her work can be seen on several different sites such as Shemale Yum and Tgirls.porn, and she can also frequently be found camming. Lianna was nominated for three 2017 TEAs for Best New Face, Best Solo Model, and Best Scene with Casey Kisses.
Hello Lianna and thank you so much for taking the time to do this interview!
No problem, I'm happy to oblige!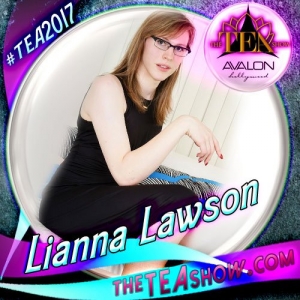 Congratulations on your three TEA nominations! How does it feel to get that many nominations?
It's almost surreal. I wasn't going into porn thinking I'd get nominated for anything, however that being said, it's amazing to have not only one but three nominations among many other talented and beautiful ladies. So something is being done right, I think.
How did you get started working in the porn industry?
Well I just started posting images of myself on social media revealing more and more. Eventually Grooby director Omar Wax scouted me and got my ass, quite literally in front of a camera. The rest kinda just went from there.
Many consider being a model in the porn industry would be a dream job. Is the job really as glamorous and as much fun as people would assume?
To the uninformed it would seem like the "dream job," but it is, in fact at the end of the day, a job. I mean there are some cool parties with cool people though, but you gotta *work* to get there.
What's your favorite part of the job and your least favorite part?
My favorite part about the job is getting to meet all the amazing people in front of AND behind the camera. Some of the most interesting and amazing people I've ever met have been through doing porn. As for the least favorite thing about the job is the stigma attached with being a trans sex worker.
What advice would you give to aspiring models who want to get into the industry?
I would tell them that they should know the risks and to think really long and hard about what they want out of working in the adult industry.
Who are some of the people who have influenced you the most throughout your career?
A lot of my influences comes from fans and friends, some of my friends being people like Shiri, Robin Banks, and Natalie Mars. All wonderful people. As they've all definitely helped me throughout my career in one way or another.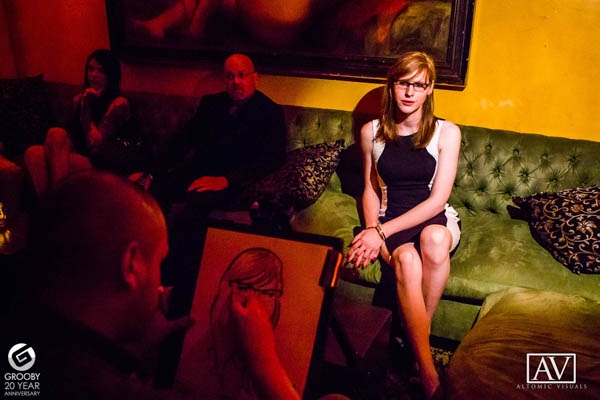 Can you tell us what Grooby means to you?
Well as you know Grooby is one of the flagship companies that produces and distributes trans porn. That being said, it's quite an honor to be featured by them and basically be propelled onto the home screens for those that appreciate and admire trans porn. And for that I'm pretty grateful. It means a great deal that I can be a part of the Grooby community and be accepted for who I am.
Does your family know you work in the porn industry and if so, how do they feel about it?
They know I do porn, but like any parents they're concerned with all the risks associated with doing porn, I assure them that I am safe and doing well. They're not happy with my choice to be in porn, but hey I'm here.
What was your childhood like growing up?
My childhood was pretty ordinary growing up so to say; I grew up in a military household, so there was lots of moving around and some strict rules. I was also the youngest of three siblings and for the most part I stayed outta trouble, got good grades, and played an unhealthy amount of video games. I didn't necessarily have any long friendships because of the moving, so I found solace with online games and their communities and kinda explored things from there.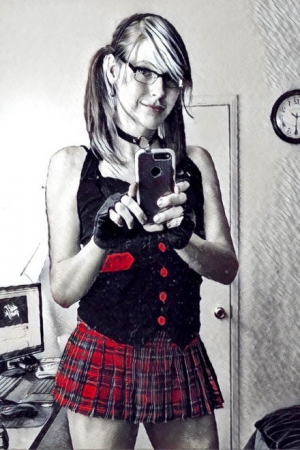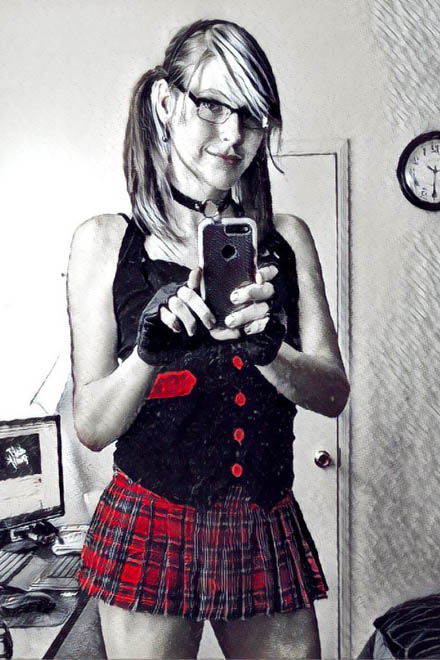 Have you always known you were trans, and was it a process to come to terms with that?
I wouldn't say that I always knew I was trans, but I had a feeling that things were not "right" growing up. My teens were basically a period of self-discovery and lots of teen angst. And being raised in a fairly strict conservative household did push me to hide some of the ways I felt and acted. Initially I thought I was just gay, but I was drawn more to the feminine side of things and felt more comfortable exploring those aspects of myself. Eventually I sought professional help and guidance when I was 23 which allowed me to be more comfortable with myself and much happier.
Is your family supportive and accepting of you?
I would say they're still getting used to the fact that I'm transitioning and are slowly coming to terms with it in their own special way.
How do you address those who claim that trans women are being exploited as sex workers?
There's exploitation in almost every aspect of life, to think that trans sex workers are an exception is a little naive. You just have to have a steady head about yourself and know when something just isn't right.
Violence and suicide are two of the biggest problems that the trans community faces, with 41% of trans people attempting suicide. What can we as a community, and more importantly, what can society do to address the issues which all too often leave trans people feeling like their only option is to end their life?
A part of the solution would be the community recognizing the warning signs when people are at risk of committing suicide. It's up to the community to know and address what's wrong or troubling the individuals who reside in said community. Support groups for LGBTQ people would be a great place for trans people seeking help and to get the care that they need to help prevent suicide. With increased efforts by the community it can bring awareness to society to change for the better and hopefully decrease suicide rates among transgender people.
What do you feel are the biggest issues facing the transgender community right now?
I think one of the big issues facing the transgender community would be acquiring and maintaining a job in the workforce without discrimination or fear of losing their job and having job security not only on a federal level. The mainstream media tends to focus on some non important issues like trans women in bathrooms and are primarily concerned with what our genitals look like. So the public is being informed that when it comes to trans people, you should be afraid or disturbed. Not to mention the media has a tendency to portray only the bad news, but that's an entirely different subject.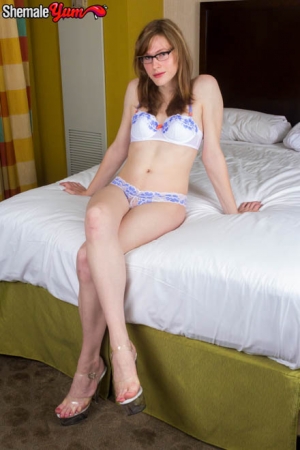 There is a negative perception of the adult entertainment industry and those who work in it by mainstream society. What can we as an industry do to break down those stereotypes and get people to view us in a more positive light?
What would really help break down the negative perception of the adult industry would be the normalization of sex and breaking down how it is seen as a holy ritual. However that isn't going to happen anytime soon because we live in a puritanical world where violence is rewarded and sex is shamed. Hopefully society's attitude towards the adult entertainment industry will evolve and everyone will be better for it.
Who inspires you?
I'd say friends and a little bit of Sasha Grey.
As a trans woman do you find it difficult to date, along with being a pornstar?
Well I don't date much and I've only been on a couple dates and the dates I have been on the people I've seen have known that I'm trans and do porn. I can see how it would be difficult, but I have not encountered those problems just yet.
When you're not working, what activities do you enjoy in your free time?
Well I enjoy playing videogames, watching movies, reading books, etc. y'know the usual. Two things worth mentioning though are my interests in photography and dancing. I'd like to explore a little bit more with both, but they're kinda just little hobbies that I dabble in. Also dancing is a great way to stay active.
I read that your favorite movie is Butch Cassidy and the Sundance Kid, which is also one of my favorites. Do you enjoy classic movies?
Yea I really enjoy the classics, they're a great place to delve into the beginnings of a really fascinating industry.
With your interest in photography would you eventually like to get behind the camera and shoot or produce porn?
I think it'd be an interesting move to shift from in front of the camera to behind and end up shooting porn. That would be something to see.
Do you enjoy interacting with your fans on social media?
Sometimes it's an absolute blast talking to people from all over the world and other times it's a total drag. For example I can talk about some really cool things like chemistry or firefighting and other times it's some Joe Blow who is looking for some wish fulfillment or a cheap thrill. it's kinda all over the place, lots of hits and misses.
What is something people would be surprised to learn about you?
That I have a dick, but seriously I think people would be surprised to know that I'm down to earth and a fairly easy going person.
Where do you see yourself in ten years?
I just don't know, I do however hope that it is not as a statistic.
Thank you so much for taking the time to do this interview Lianna, it was a pleasure!
Be sure to follow Lianna on Twitter and Tumblr!