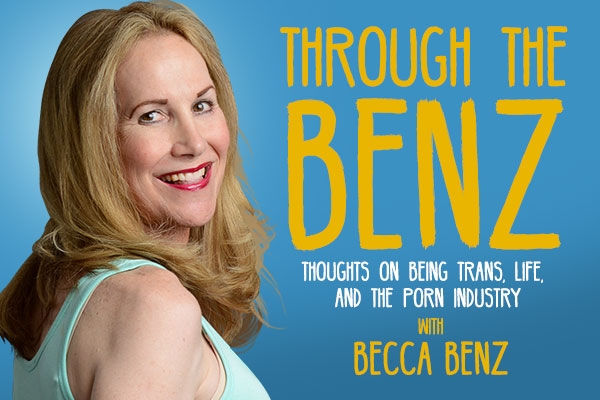 Chloe Wilcox is one of the up and coming new models for Grooby who has become a fan favorite and earned a TEA nomination for Ms. Unique! She is someone I have a lot of respect for, and even more so after doing this interview. It's interviews like this which make my job so rewarding, because I get the opportunity to know some really amazing people like Chloe who inspire me in so many ways. So, without further ado, I give you Chloe Wilcox!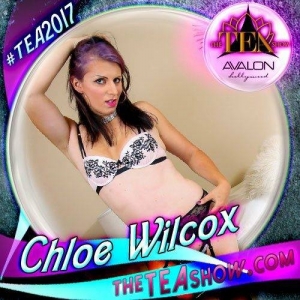 Congratulations on getting nominated for the Ms. Unique Transgender Erotica Award! How does it feel to be nominated?
It is very humbling and an honor to be nominated alongside such great talent. In all honesty, I'm still surprised I was nominated.
Can you tell us what makes you so unique?
I have to admit, Becca, I really, really struggled with this question, and I actually asked for an outside opinion. And there are two things that people constantly tell me. I am unabashedly me; there is no difference between my porn, vanilla, or sister personas, I'm just me 24/7. And the secondly, I'm extremely humble and modest. Recognition is great, but at the end of the day I'm just doing what makes me happy.
How did you get started working in the porn industry?
Even before I transitioned I would see these beautiful trans girls in porn and I would think to myself that I wish I could be like her. So I guess you can say I'm living the dream, so to speak! I started out by applying to Grooby on their Femout site and was selected to do a shoot. About five months later Grooby photographer Omar Wax was passing through Nashville and we were able to get a shoot done.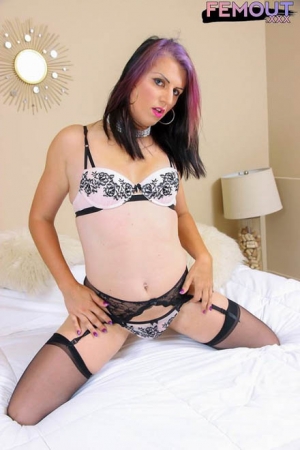 What's your favorite part of the job and your least favorite part?
My favorite part is the empowerment and freedom it gives me in feeling attractive with my sexuality and body, which for a lot of girls can be a struggle. As well as the great friendships I have made in the industry thus far.
I would say my least favorite part so far is really just the lack of opportunities being in the mid-south. So that is definitely a struggle.
Do you enjoy interacting with your fans on social media?
Absolutely! It's been a pleasure and a delight interacting with my fans! At least, the active ones who respond.
What was your childhood like growing up in Tacoma, Washington?
Well, I grew up as an only child and never had many friends, I pretty much had a few close friends and kept myself busy with my artwork to keep from drowning in my depression as a child.
Depression is something which is all too common in the trans community. Is this something you still deal with?
Having the strength to live my truth, has freed me from my depression. For once I'm living on my own terms, not just existing, and its truly liberating.
What kind of artwork do you enjoy?
Like with everything else in my life I enjoy variety. I can draw, paint, craft, carve, skrim-shaw, and play music. If there is a way to out let my creative juices, I will do it! As long as the muse is with me.
At what point did you realize you were trans?
Like most girls I knew I was physically in the wrong body around the age of 7, I just didn't know the word for how I felt. And I was taught to hide it.
At what age did you start your transition, and how did it go?
I came out as being transgender in October of 2014. It was scary at first, as is any huge life change. However, I was fortunate enough to have amazing support from friends, and being part of my local community was a great support system as well.
Has your family supporting and accepting of you?
My family was never supportive when I was figuring out who I was as a child. To this day, none of my family, biological or adoptive, talk to me since I started transition.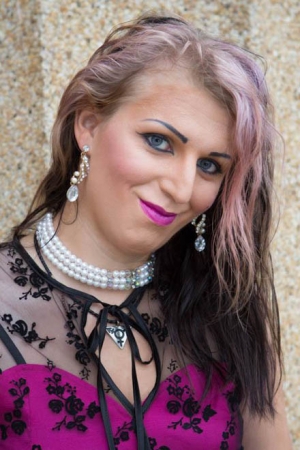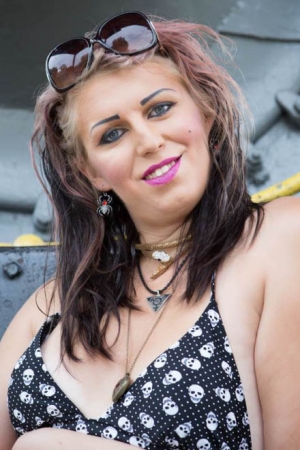 There are some who claim that trans women are being exploited by the porn industry. What are your thoughts on this?
I feel like just as with anything else in life there are going to be people who are going to try and take advantage of you. I think that it is important for those getting in the industry to research the average pay rates for the different types of scenes, as well as network with other actresses about their experiences with different producers to keep them from being taken advantage of. Secondly, with the amount of websites where you can sell your own content, a lot of individuals produce their own content and sell it, which allows us more freedom and helps to prevent people from being taken advantage of.
What can we as an industry do to break down the negative stereotypes associated with porn and get people to view us in a more positive light?
As with anything the best way to change perception and enlighten ignorance is through education and outreach. And for individuals in this industry to continue to push and enforce the safe sex practices we have in place.
Who inspires you?
I really can't say there is any one person that inspires me. I really just try to be a better person than I was the day before. But I do have many people in my life, both in and outside of the industry, that I have much respect and admiration for who have been very supportive.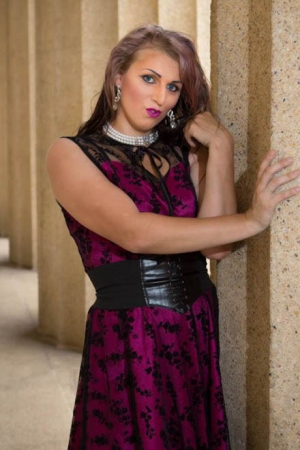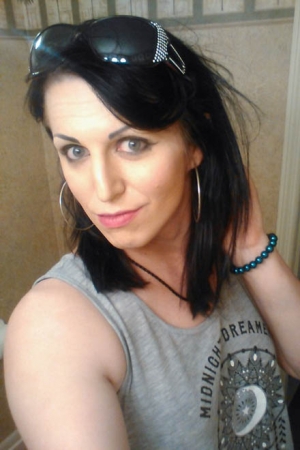 Do you find it difficult to date as a trans woman and a pornstar?
Dating, in general has been tricky, for cis males it is harder for them to keep my attention because the majority are very one dimensional. But I do find connecting with females, both cis and trans, easier.
What do you feel are the biggest issues facing the transgender community right now?
Well, with the recent events, and as violence against LGBT community has increased, I think the biggest issue right now is safety. I personally know a few trans women who have been targeted because of recent events.
Where would you like to see yourself in ten years?
I find it hard to see that far ahead, perhaps married? A lot can happen and change in ten years, so as long as I'm happy with who I am and my life, the details are irrelevant.
What is a typical day in your life like?
A typical day is fairly uneventful for the most part. I work a 40-hour regular job, which I'm 100% out and proud as a trans woman. I cam here and there when I have the time and energy. And I usually end my night playing a game with my two girlfriends and falling asleep with each other over Skype.
What is one thing people would be surprised to know about you?
Well, I live my life very transparently, but the two things that typically surprise people is that I do porn (for those in my vanilla life) and that I'm also a journeyman level carpenter and can do plumbing, electrical, and even weld. I'm basically a Jacqueline of all trades. And I'm also a Nun.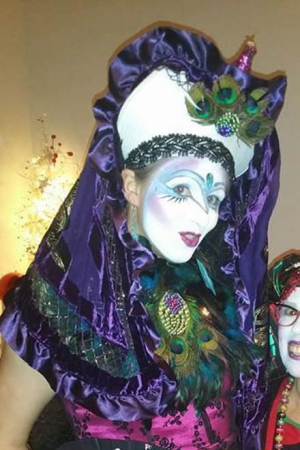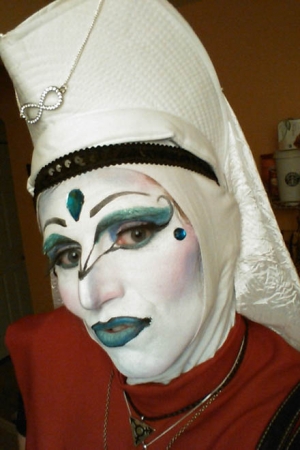 You're a nun?
Yep, I'm a member of the Sisters of Perpetual Indulgence in the Music City Chapter. We are 21st century nuns and our mission is to banish stigmatic guilt and to spread joy. We do everything that nuns do such as raising money for other non-profits in our local communities. The only things we don't do are spread religion and take vows of celibacy. We have over 30 houses world-wide, and every sister comes from many different backgrounds. We mostly help the LGBT community but also help others as well. We go where we are called to.
That's really neat because I grew up in the Bay Area where the Sisters of Perpetual Indulgence began and I remember them very well, as a symbol that I wasn't alone, even back then. And more recently I've seen them at Portland LGBT events and marches.
How is it for you as a trans woman working in the construction industry, which is typically considered a male dominated industry?
When I first started transition I was very quiet about it, for obvious reasons. I'm sure a lot of people probably just thought I was gay *lol* but as I got further along in my transition I was growing tired of having to feel the need to hide myself and be called a name I did not identify with. When I came out I was working in a job as a mechanic on tractor trailers and I had to fight to be called my preferred name and pronouns. Eventually the constantly misgendering from truckers, even though my uniform had my preferred name, was becoming mentally and emotionally tiresome, not to mention physically draining. I eventually quit that job and am now working at a place I am much happier at!
Thank you so much for taking the time to do this interview Chloe, it was a pleasure to get to know you better and to learn more about the interesting life you've lead. You truly are an inspiration and I look forward to meeting you at the Transgender Erotica Awards in March!
To learn more about Chloe you can follow her on:
https://twitter.com/ChloeWilcox_Ts
https://www.facebook.com/CoraElizaLove